Dr Jose Manuel Yanez of University of Chile, Dr Diego Robledo and Prof Ross Houston of Roslin Institute worked together with scientists from Aquainnovo, now part of Benchmark Genetics, to examine the differences in gene expression response to Caligus infestation in skin samples taken from resistant and susceptible salmon.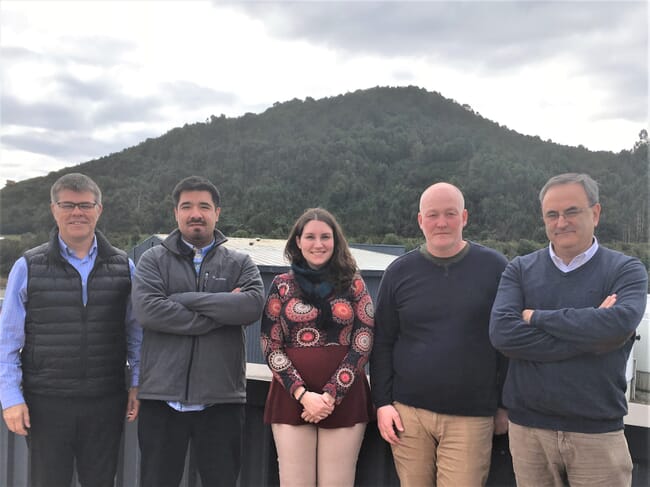 In a paper published recently in Frontiers in Genetics they describe observations on the varying level of activity of genes between fish with different resistance to Caligus rogercressyi - the species of sea louse which affects salmon production in Chile.
Sea lice infection is a major issue in salmon production, causing estimated global losses of over $430 million per year, and has serious effects on welfare of farmed salmon. Caligus rogercressyi is different to the main louse species in the Northern Hemisphere Lepeophtheirus salmonis and has been less widely studied. Improving the genetic resistance of salmon is a goal of breeding companies and Aquainnovo, recently merged with Benchmark Genetics Chile, has sought to collaborate with leading scientists in Chile and worldwide to improve Caligus resistance in Chilean salmon strains.
The paper shows that infected salmon have genes which differ in activity between resistant and susceptible fish. Included in the genes which change activity in resistant fish are genes controlling immune function, iron availability, cell division and pathogen recognition. These genes are now being investigated for use in breeding programmes to improve genomic selection for Caligus resistance, in particular, as well as general sea lice resistance. Understanding the roles of these genes will allow the development of functional feeds and other treatments against sea lice.
Alan Tinch, technical services director of Benchmark, commented: "Improving the robustness of salmon to Caligus and other sea lice depends on the collaboration of scientists from across the globe to apply the best technology available. This research continues to push back the boundaries of knowledge on genetics of disease resistance".
Dr Jose-Manuel Yanez, from the University of Chile, added: "Our collaboration between Chile-UK has not only helped us to better understand the genetic control of host resistance to the two most important diseases affecting Chilean salmon aquaculture, sea lice (Caligus) and salmon rickettsial syndrome, but also generated applied solutions to accelerate genetic improvement for these traits in Atlantic salmon. We hope to continue this fruitful collaboration between University of Chile, The Roslin Institute and Benchmark Genetics to generate new knowledge and provide novel genetic solutions for the aquaculture industry worldwide."
Further information on this project will be presented at a seminar in Puerto Varas, Chile on 8 November.