Singapore steps up its aquaculture ambitions
Singapore's key aquaculture players – from the industry, research community and government – have joined forces to launch the AquaPolis Programme, which aims for the island nation to become a leading research and innovation cluster for sustainable tropical aquaculture.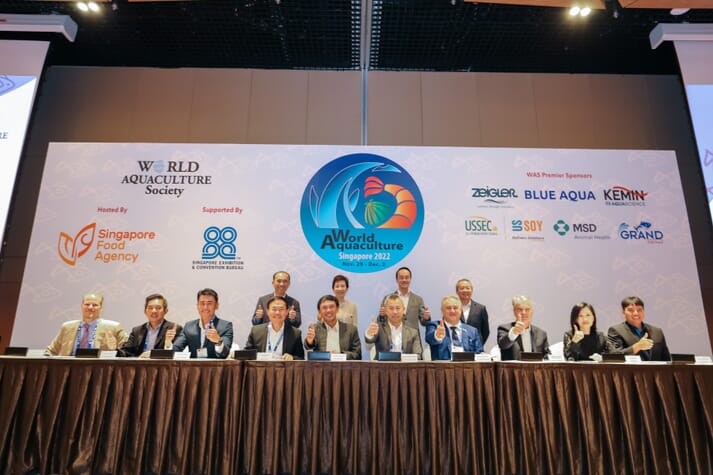 A memorandum of understanding to drive the project has this week been signed by the Singapore Food Agency (SFA), National University of Singapore (NUS), Temasek Life Sciences Laboratory (TLL), Barramundi Group (BG), Blue Aqua International (Blue Aqua), Singapore Aquaculture Technologies (SAT), Swee Chioh Fishery (SCF), The Fish Farmer, Universal Aquaculture (UA), and Vertical Oceans (VO).
The AquaPolis Programme, an initiative under Singapore Food Story R&D Programme 2.0, brings together local and overseas aquaculture researchers and industry partners to reap strategic synergies in developing innovative and sustainable solutions, while cultivating talent for the industry's workforce.
AquaPolis will capitalise on the technical, operational and research expertise of strategic partners to achieve translational R&D results, in improving the productivity and competitiveness of the region's farms towards Singapore's "30 by 30" food security goal – which aims to sustainably produce 30 percent of Singapore's nutritional needs by 2030.
Beyond local production, the developed solutions and innovations may also be relevant to agri-food industries in other regional countries and contribute to sustainable food practices and enhance our food security, particularly in the light of climate change.

Lim Kok Thai, CEO of SFA, said in a press release: "SFA welcomes this strategic collaboration. It is exciting to see R&D talents from local and overseas institutions, as well as our key industry partners, coming together with innovation and sustainability in mind, to build our capabilities and capacity in aquaculture within Singapore and beyond. Our aquaculture industry plays a key role in our food security, and I am confident that these collective efforts will strengthen our food security and build a resilient food future for Singapore."
Professor Chen Tsuhan, deputy president (research and technology) of NUS, said: "NUS is excited to host the AquaPolis Programme. We look forward to collaborating closely with the Singapore Food Agency and Temasek Life Sciences Laboratory to co-create innovative research solutions to address challenges in tropical aquaculture."
Peter Chia, CEO of TLL, added: "AquaPolis represents a milestone in Singapore's 20-year journey to bring together partners, with a vision to transform our aquatic food systems to be more sustainable and resilient for a growing population in light of global climate changes. We look forward, together with SFA and NUS in partnership with our industry partners, to help lay the foundation for research-based innovation to address challenges faced by industry today, and to nurture the next generation of aquaculture champions to benefit all consumers in Singapore."