Called grow Singapore, it is part of the German tech giant's "global in-house innovation and start-up incubation network". It has been set up in partnership with EDB New Ventures, and aims to launch at least five new ventures by 2023 from Singapore, each with the potential to scale as new businesses for Bosch.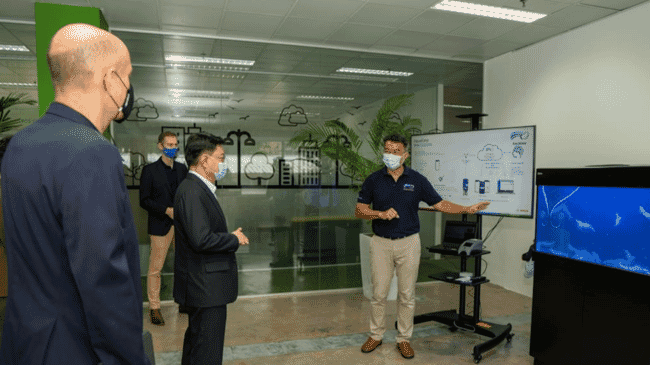 AquaEasy is the first spin-out under grow and has secured funding from EDB New Ventures and Bosch.

The startup combines sensors, software and services – based on data analysis capabilities using artificial intelligence (AI) to transform aquaculture from art to science. It aims to help the region's shrimp farmers increase yield, predictability and implement sustainable aquaculture practices, while reducing risks and costs. It has already been deployed at many shrimp farms in Indonesia, Vietnam as well in Singapore such as Qian Hu, a local aquaculture company to achieve an efficient and sustainable farming system which is in line with Singapore's goal of attaining food security and sufficiency by 2030.
Aside from leveraging Bosch's cutting-edge competencies in sensor development and AI, Bosch has also supported AquaEasy since 2018 via go-to-market support, business development and strategies, recruitment, networks and partnerships.
"Through corporate venturing, Bosch has been able to expand into new domains such as aquaculture in an agile way. Our joint investment into AquaEasy reflects the strong market potential in Asia where the majority of global shrimp production takes place. As a corporate venture, AquaEasy leverages Bosch's deep sensor and AI expertise for its competitive edge, and is well-positioned to tap into this market from Singapore," said Choo Heng Tong, executive vice president, new ventures and innovation, at EDB. "With grow Singapore, Bosch now has a 'venture engine' here to create high growth new businesses and we are excited that AquaEasy is the first of many ventures to come."
As one of eight carefully selected innovation hubs globally, grow Singapore aims to capture future growth within the region for the world by leveraging on Singapore's thriving innovation landscape.
"Singapore's grow hub is unique for us strategically - not only is Singapore home to Bosch's regional office, it is also one of the world's most prominent innovation powerhouses reflected in the robust local start-up scene," said grow's global head, Karsten Roenner. "We continue to see strong government support on innovation, coupled with an organic network of founders, investors and mentors that continues to bring about positive and sustainable change in the region, making Singapore an ideal testbed for grow."