So argue the authors of a new study, who have recently published a paper that presents data on the residues of anti-sea lice agents in 3,000 samples of farmed fish collected from 2002 to 2017.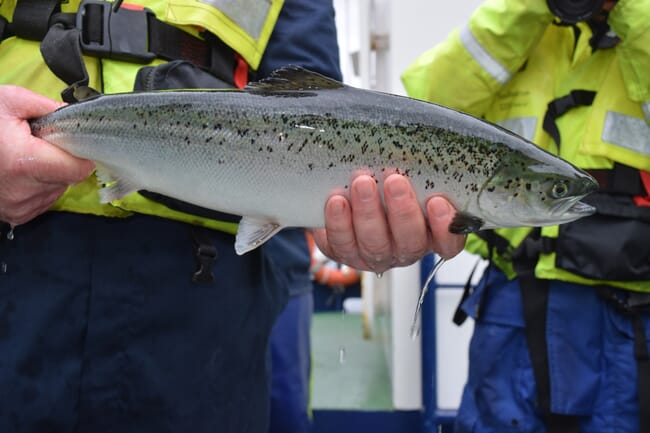 They note that in the period 2002–2007 the use of anti-sea lice agents included emamectin (generally sold under the brand name Slice in aquaculture), cypermethrin and deltamethrin, while azamethiphos and flubenzurons were introduced in 2008 and 2009 respectively.

Residues were detected in 3 percent of the samples. The most commonly found anti-sea lice agent was emamectin, which was detected in 5 percent of the samples analyzed for emamectin. The highest level measured was 94 μg/kg, and hence, emamectin was the anti-sea lice agent that had residues closest to the MRL.
In order to ensure consumer safety, the researchers note, the EU has determined an acceptable daily intake (ADI) value of 0.5 μg/kg body weight per day for emamectin. For a person, with a body weight of 60 kg, consumption of 200 g of salmon, with the maximum measured emamectin level of 94 μg/g, would contribute to 63% of the ADI and therefore fall within EU limits.
Meanwhile cypermethrin was detected in 2.1 percent of the samples analysed for cypermethrin. Furthermore, residues of diflubenzuron and teflubenzuron were detected in 1.2 and 0.1 percent of the samples analysed for these compounds, respectively. None of the other anti-sea lice agents were detected.
Withdrawal period
The research validates the withdrawal period – the period of time between the administration of veterinary drugs and slaughter of the fish – that's currently prescribed for these medications.
However, the researchers add that, regulatory concerns have been raised regarding p-chloroaniline, a possible impurity and metabolite of diflubenzuron – which means that the MRL for diflubenzuron will, in time, be reduced from 1000 μg/g to 10 μg/g.
"From 2002 to 2017, residues of diflubenzuron above 10 μg/g were detected in two pooled samples. An increase in withdrawal time should be considered to avoid residue levels above the MRL," the researchers conclude.
Further information
The full study, which was published under the title "Anti-sea lice agents in Norwegian aquaculture; surveillance, treatment trends and possible implications for food safety", in the latest issue of Aquaculture, is available here.