The awards recognised the students' achievements during the academic year 2016/17 across a range of disciplines that include aquaculture, fishing, engineering and navigation. The presentations were made before an invited audience by David Sandison (Chair, NAFC Board of Trustees), Simon Collins (NAFC Trustee) and guest Commodore Mike Bullock MBE.

The Jim Tait Prize for Aquaculture for the best student completing a Modern Apprenticeship in Aquaculture at SCQF Level 5 was awarded to Ross Johnson of Cooke Aquaculture, based in Yell, for his "exceptional practical ability and know-how in all aspects of salmon farming during his apprenticeship, including the use of boats, cranes and feeding systems, and his written work was all completed to a high standard".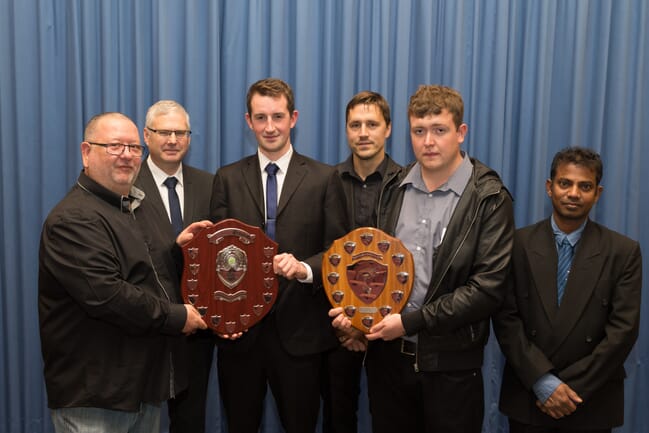 Meanwhile the Scottish Salmon Producers' Organisation Award for the best student completing a Modern Apprenticeship in Aquaculture at SCQF Level 7 was awarded jointly to Matthew Dade and Gary Buchan. Both work for Grieg Seafood Shetland, Mathew at their Setter Ness site and Gary at their Girlsta Hatchery.
According to the judges: "Matthew is a chef to trade but has become a brilliant salmon farmer since joining Grieg Seafood two years ago. He has shown a wide range of abilities while completing his apprenticeship, with a very mature attitude towards everything he does, and is a well-liked person at work.
"Gary has been working as fish hatchery technician for 2 years and has progressed extremely well since starting his apprenticeship. He has shown total dedication to his work and been a fantastic person to work with, and is hoping to go on to complete a Technical Apprenticeship".
Stuart Fitzsimmons, NAFC's Section Leader for Aquaculture Training, commented that it had been very difficult to choose winners from all 45 students undertaking modern apprenticeships in aquaculture over the past year.
"All of our apprentices have shown excellent progress but we have chosen Ross, Matthew and Gary for their exceptional practical and theoretical knowledge as well as their outstanding team-work," he said.