China produces around 60 percent of the world's aquaculture output, but precise data relating to this figure is notoriously difficult to source. Moreover, as the authors of a new study note, rapid development of the country's marine aquaculture industry "has introduced serious ecological and environmental problems to the coastal zone in the effort to meet a growing demand for seafood consumption."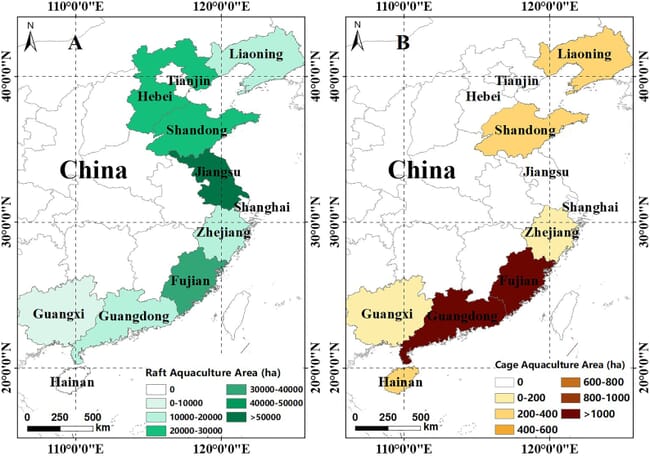 "Therefore, the marine fishery management department urgently needs to properly control and manage the culture mode and structure along with the aquaculture capacity of the coastal zone to ensure orderly development of the aquaculture industry while strengthening the environmental protection of marine resources," they add.

However, as the researchers note, accurate and comprehensive information on the type and location of aquaculture areas is essential for anyone wishing to address these issues. And, in order to obtain this information, the researchers launched the study, which they claim is the first large-scale extraction of marine aquaculture research that has taken place in China to date.
"In this study, we used remote sensing statistical monitoring methods to extract statistics showing the extent of raft aquaculture and cage aquaculture in China's offshore waters, filling in the blanks in China's offshore aquaculture distribution statistics," they explain.
To achieve this they took Landsat 8 remote sensing images and used a combination of an unsupervised classification algorithm and artificial review to extract areas for Chinese offshore raft and cage aquaculture during 2018.
Results
They noted that: "China's offshore aquaculture distribution was generally located within 40 km of the shoreline, and an aquaculture zone could be found around islands that were farther from the shoreline. Offshore aquaculture areas were mostly distributed in estuaries, harbors, and islands."
In terms of production methods, their results showed that coastal zone raft aquaculture covered 194,110 hectares – largely in the north and centre of the coastline. Cage aquaculture covered 5,784 hectares, and was largely confined to the south of the country.
"The extraction results can be used not only to evaluate China's aquaculture production but also offer significant reference value for scientific planning related to sea use, ecological environmental protection, and marine disaster prevention and mitigation," they wrote.

Future developments
The researchers did concede that their remote sensing extraction results were inconsistent with figures from the statistical yearbook and therefore, in the future, plan to "add multiple images to make up for the omissions caused by single-phase image extraction and add high-resolution optical images and microwave images to further ensure the reliability of the data set."
"In the future, we plan to use the advantages remote sensing offers in terms of high-frequency, large-scale, and long-term observation to conduct more detailed and extensive application research on marine aquaculture to provide technical support for the management and planning of coastal zones," they conclude.
Further information
The full study, published in the International Journal of Applied Earth Observation and Geoinformation under the title, "Satellite-based monitoring and statistics for raft and cage aquaculture in China's offshore waters", can be accessed here.