Led by the Ocean Startup Project, it is a collaborative Ocean Supercluster initiative dedicated to growing high-potential ocean technology companies and attracting more ventures to Canada's ocean startup ecosystem.
The 2021 cohort is twice the size of the previous year's due to the quality of the applicants, and the 40 successful applicants were selected from more than 170 companies that applied for the programme. It will kick off on 20 October, and will allow companies and their teams to work with industry mentors to develop their ideas.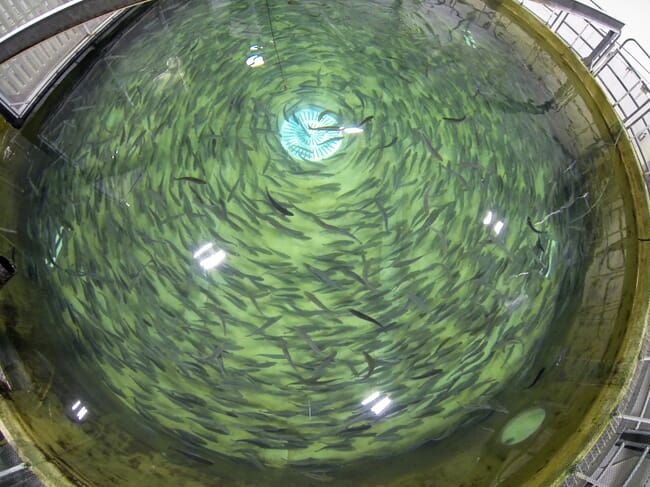 The full cohort is listed under the Oceanshot, Growth and Ideas categories below - those most relevant to aquaculture are in bold:

Oceanshot
Planetary Hydrogen (Dartmouth, NS) produces hydrogen while taking CO2 out of the air, transforming it into an antacid and locking it away in ocean chemistry for hundreds of thousands of years.
Growth
3F Waste Recovery (Main Brook, NL) develops and manufactures high value natural ingredients from the fish, farm and forest waste of Newfoundland and Labrador.
a2o Advanced Materials (Vancouver, BC) is developing the next generation of underwater adhesive and bonding coatings.
Canscan Softwares and Technologies (Montreal, QC) uses machine vision, artificial intelligence and existing infrastructure to automate visual inspection processes of shipping containers in ports, container depots and intermodal yards.
Glas Ocean Electric (Halifax, NS) provides leading solutions for emissions reduction through electric propulsion systems on workboats and vessels to grid energy storage.
IntelliReefs CAN (Halifax, NS) restores and enhances degraded ocean ecosystems by designing nanotechnology artificial reefs and infrastructure solutions that increase economic security, biodiversity, coastal protection, and ongoing resilience. The company is collaborating with Dalhousie University researchers to adapt their technology for kelp growth and attraction of commercially and biologically important fish and invertebrate species.
Kavacha (Canoe Cove, PE) is developing sustainable antifoul protection that makes clean protein possible by eliminating pesticides and plastics in aquaculture and marine applications through advanced materials science innovations.
Marecomms (Halifax, NS) designs and develops robust and broadband wireless communication systems, and remote sensing solutions for maritime environments.
Marimetrics Technologies (Dartmouth, NS) designs, develops and markets technologies for monitoring fish health and welfare in the aquaculture industry.
Nova Institute (Oakville, ON) is developing Voltai, a flexible and vibration absorbing generator that harvests energy from motion with 100 times the energy density of traditional turbines.
qualiTEAS (St. John's, NL) is a corrosion inspection service company developing an AI-integrated image analysis software for near-real-time detection of corrosion and cracks on subsea assets.
Skaldyr (Sydney, NS) is a functional ingredient company focused on developing marine-sourced nutraceuticals by upcycling underutilized marine by-products.
SeaChange Biochemistry (Cape Sable Island, NS) has designed a unique biorefinery process to simultaneously produce multiple high value chemicals from a single seaweed species.
Seahawk Robotics (Vancouver, BC) maximizes access to ocean data using drones that operate above, at, and under water.
Idea
Acoustic Bait Technologies (Antigonish, NS) is developing an alternative bait system for the lobster fishery using recorded acoustic lobster sounds to modify the behavior of lobsters and attract them into lobster traps.
Aimsir Technologies (Montreal, QC) aims to capture ocean-based weather information to significantly improve weather forecast accuracy by retrofitting vessels around the world with Automatic Weather Stations.
Atlantique Nord Innovation (Shippagan, NB) develops functional products that help address the fish waste problem in Atlantic Canada by extracting value from parts of the fish that would typically be dumped into landfills. Their first product in development, ÖVIE, is a refreshing functional carbonated drink infused with marine collagen.
CORSphere (St. John's, NL) is developing an industrial asset maintenance tracking software empowered through cross-platform data interconnectivity, collaboration between maintainers, and predictive analytics to reduce downtime.
Devocéan (Granby, QC) develops underwater acoustic triggers that help recover equipment underwater. Devocean's first commercial target is the fishing market where its triggers allow better cohabitation with marine mammals.
DownNorth Technologies (Halifax, NS) is developing water purification solutions for recirculating aquaculture systems (RAS) that use microbial electrochemical cell technology to remove fish waste without producing toxic by-products or mal-odour compounds.
ExTech MIP (St. John's, NL) is developing an extraction device to make analyzing contaminants in water faster and more efficient.
GALAXIA Mission Systems (Halifax, NS) is developing a constellation of AI-based small satellites in Low Earth Orbit that provide close to real-time monitoring of ocean-based assets.
Gazpek (Dartmouth, NS) is developing subsea data centers that maximize advantages of the natural cooling phenomenon of sea water, harness "ghost power" lost in offshore wind cable transmission, and provide improved latency.
GC Lipid Tech (Montreal, QC) alleviates the ecological pressure on marine life caused by unsustainable fish feed.
Luna Sea Solutions (Lunenburg, NS) is creating LunaTide: a Data-as-a-Service tidal current forecasting system to help ocean industries make better decisions.
MacDonald Hallett Oceans Protection Engineering Group (Dartmouth, NS) is developing an Autonomous Emergency Towing System for ships that are in distress, or have been evacuated and left abandoned. This pre-rigged, remotely operated, quick release, autonomously deployed system will bring a ship under control and safely in tow thereby, saving life at sea, preventing loss of ships and cargo, and avoiding environmental disasters with huge liabilities.
Naav Labs (Dartmouth, NS) is developing a simple to use technology that integrates computer vision, machine learning and augmented reality to help shipbuilders validate "Built as Designed", drastically reducing costly errors and allowing real-time decision making.
Nereus Pharma (Toronto, ON) develops innovative pharmaceutical products for the aquaculture industry, with a focus on improving aquaculture health sustainability. Their first product is a new antibiotic formulation that could potentially reduce antibiotic environmental contamination by as much as 90%.
Ocean Set (St. John's, NL) is developing a cloud-based platform that reduces the complexity and increases the intelligence of utilizing and exchanging ocean data. Their vision is to enable ocean organizations to have seamless access to buy, sell, explore, share, and unlock data value. Ocean Set offers software tools and professional services that allow ocean organizations to identify, broker, cleanse, structure, analyse, and exchange their valued data.
Oxebow Enterprises (Yarmouth, NS) is developing an on-board crustacean sorting and grading machine to allow people working on fishing boats to increase efficiency so crews can focus on other important tasks while the catch is automatically processed.
Precipice Sensors (Montreal, QC) aims to improve the coverage and accessibility of coastal water level sensors by developing compact technology that is easy to install and maintain.
Quantum Devices Corp. (Halifax, NS) develops leading edge enhanced sensor and camera sun spectrum range technology for 2D, optical chemistry, and depth sensing using a single camera chip for mobile, transportation, and medical imagery.
Rising Tide BioAcoustics (Dartmouth, NS) provides acoustic systems for fish deterrence, guidance and attraction, marine mammal deterrence, and control/eradication of invasive species.
SARSync (Conception Bay South, NL) is creating a maritime search and rescue (MSAR) platform that connects incident commanders to real-time search data, assets and third-parties to better conduct searches.
SednaLink Marine Systems (Iqaluit, NU) aims to increase access to key decision making information in the Arctic by integrating sensor technology into telecommunication cables to monitor marine environmental conditions.
Spatialnetic Solutions (Fredericton, NB) builds custom solutions that remove the barriers for efficient and sustainable operations in the marine economy, leveraging autonomous platforms, workflow automation, and dynamic IoT networks.
SuBait (Dartmouth, NS) is taking a scientific approach to develop a superior sustainable lobster bait substitute based on seafood co-products replacing environmentally challenging commercial bait fish species.
Traxe Technologies (Vancouver, BC) is developing a blockchain-based traceability solution for seafood brands, enabling end consumers to trace and verify the journey of their seafood product from ocean to table.
Turquoise Revolution (Saint John, NB) is on a mission to make the blue economy greener by developing an innovative solution to dry seaweed crop biomass more efficiently.
Whyatt Technologies (Humber Valley, NL) is creating a digital application that will allow fish harvesters to go paperless by integrating with industry licensing and regulatory systems to ensure all required documents are easily accessible onboard fishing vessels.