Only weeks after Nordic Aquafarms revealed plans to build their own land-based facility in the state, Whole Oceans have announced their intention to invest $250 million in a recirculating aquaculture system on the site of a former paper mill in Bucksport.
"The time for RAS has arrived and Whole Oceans will make Bucksport a global leader in sustainable Atlantic salmon production," said Rob Piasio, CEO of the new company.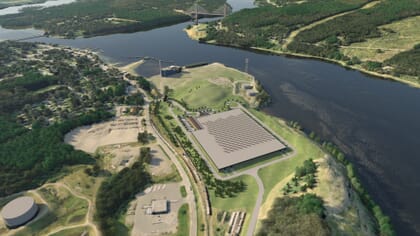 Whole Oceans claims to have already pre-sold 100 percent of its total production for the next 10 years and aims to capture a 10 percent share of the US salmon market – 95 percent of which they say is currently catered for by foreign, marine-based farms.
According to Ben Willauer, Whole Oceans' Director of Corporate Development: "In all my years in investing, I have never seen a more obvious and compelling business model than Whole Oceans. All aspects of this plan have been carefully considered, with an uncompromising dedication to 'doing the right thing' toward every decision, at every level. It is with great pride and purpose I am able to help bring this project to Bucksport."
Construction of the new facility is due to start in August.
"To execute our plan, we have assembled a team of global leaders in land-based technology, including Billund Aquaculture, based in Denmark, and the Conservation Fund's Freshwater Institute in West Virginia," Piasio explained.