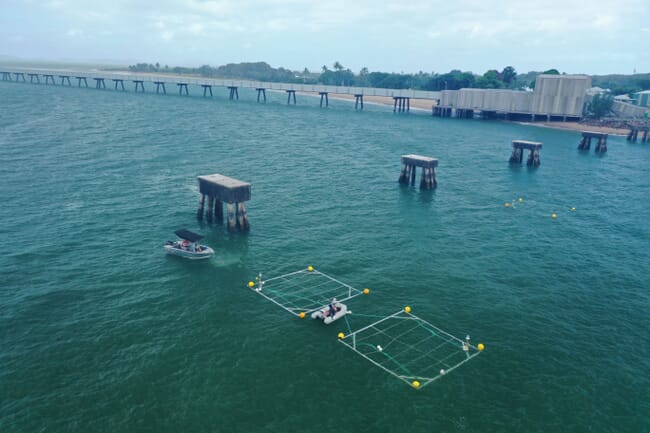 The Seaweed Biofilter Innovation Project is trialling the installation of "seaweed biopods" at Orpheus Island and the Port of Lucinda, to explore their potential as a natural biofilter to remove excess nitrogen to help improve reef ecosystem resilience..

The project is led by the Australian Seaweed Institute (ASI) and the field trials are supported by their partners Malone's Maritime, Reef Ecologic and Port of Townsville.
The project is funded by the partnership between the Australian Government's Reef Trust and the Great Barrier Reef Foundation, through the Water Quality Innovation Program and Port of Townsville.
Great Barrier Reef Foundation managing director Anna Marsden said sediment and pollutants running into the Reef's waters are a significant threat to the health of Australia's irreplaceable ecosystem, the Great Barrier Reef, and partnerships such as this were essential to find new solutions.
Every year thousands of tonnes of excess nutrients run off the land and out to the reef, reducing its resilience to recover from stress events like rising sea temperatures and associated coral beaching, ocean acidification and crown-of-thorns starfish outbreaks.

ASI CEO Jo Kelly said this was the first time seaweed cultivation has been purposefully designed and strategically located to intercept nitrogen runoff and improve water quality for the Great Barrier Reef.
"Our modelling suggests that seaweed biofilters are a cost-effective and scalable solution to water quality problems plaguing the reef and the field trials are a critical step to validate this," she said in a press release.
"Harnessing native seaweeds as a nature-based solution to utilise the excess nutrients flowing to coastal waters around the Great Barrier Reef seems to make a lot of sense," she continued.
"Whenever I explain to people that we are growing seaweed to ecologically remove excess nutrients from coastal waters the first question I get is 'why hasn't it been done before'? Seaweed is an emerging new industry in Australia, and we are at the forefront of cultivation of seaweeds to provide ecosystem services and demonstrate improved ocean and reef health," added Kelly.
Port of Townsville CEO Ranee Crosby said the Port was proud to support environmental initiatives that enhance the health of North Queensland's waterways.
"We know how important healthy reefs and ecosystems are and as part of our Port Vision 2050 we are committed to creating positive environmental outcomes," Ms Crosby said.
"Partnerships on reef improvement projects are vital, and we are thrilled that this pioneering one can happen at the Port of Lucinda, in the Hinchinbrook Shire, in the lead up to World Ocean's Day on 8 June."
Marsden said the Great Barrier Reef Foundation was proud to support the project.
"We are proud to support innovations such as this which will not only improve conditions for the Reef's precious corals, but also help our endangered turtles and dugongs who feed on the region's seagrass beds that need clean water to thrive," she reflected.