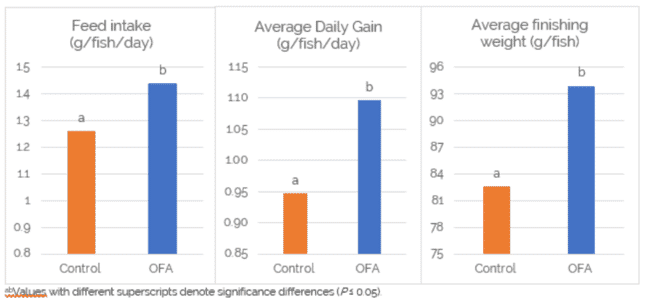 Ocean Harvest Technology (OHT) conducted the 75-day trial, comparing the impact that their OceanFeed Aqua (OFA) seaweed blend had on striped pangasius growth and performance, compared to standard commercial catfish feeds.

According to OHT, a total of 640 catfish fingerlings with an average starting weight of 11.6 g per fish were randomly allocated to one of two dietary treatments: a control (standard commercial diet), or control + OFA. The fish were fed these diets for the duration of the trial period and were weighed at the start (Day 0) and end (Day 75).
OHT reports that: "OceanFeed Aqua significantly improved feed intake and weight gain in pangasius catfish, resulting in a 14 percent increase in fish weight at the end of the trial period."
Ocean Harvest Technology's technical director, Dr Ian Hutchinson, added in a press release: "The performance improvements observed in the trial demonstrate the potential for OFA to be used to increase output in catfish production systems".
OHT sources multiple seaweed species from harvesters and other suppliers across the world, which are then processed in the company's facility in Vietnam where they are processed into feeds for a range of species – including cattle, poultry, shrimp and fish.