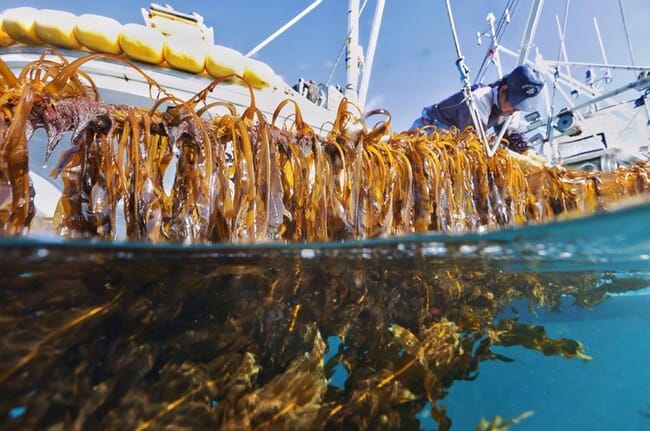 Seaweed aquaculture and mangrove preservation have been given huge boosts today following a decision by the Bezos Earth Fund to award $100 million to projects in these areas involving the World Wildlife Fund (WWF).
This grant will help WWF protect and restore mangroves, which store carbon and protect coastal communities from the ravages of climate-accelerated weather events. It also will enable WWF to develop new markets for seaweed as an alternative to fossil fuel-based products.
Rather than focusing solely on preventing pollution, nature-based solutions to the climate crisis help communities adapt to climate change and mitigate its impacts, delivering benefits for people and nature. The portfolio of projects supported by this grant will take place in at least a dozen countries through collaboration with governments, multilaterals, NGOs, and local communities on three key initiatives:

Protecting and restoring mangroves in Colombia, Fiji, Madagascar, and Mexico.
Scaling up sustainable seaweed farming in the North Atlantic Rim and developing new markets to accelerate the expansion of the industry.
Restoring and protecting forests and critical ecosystems through long-term integrated finance and protected area initiatives in the Amazon, Africa, and Central America.
Jeff Bezos, the founder of Amazon, launched the fund in February with a commitment to issue $10 billion in grants to help fight climate change and protect the planet but the WWF funding has only been announced today.

"By investing in the power of nature-based climate solutions, these projects aim to deliver substantial emissions reductions, conserve nature in areas greater than the state of California and improve the resilience of more than 14 million people around the world," said Carter Roberts, president and CEO of WWF-US.

"Our best solutions both lower global emissions and strengthen the climate resilience for people in some of the world's most vulnerable communities. Now we have the resources to put those solutions to work across the globe," Roberts added.
"With generous support from the Bezos Earth Fund, and our expected ability to leverage an additional $850 million from other partners, we believe we can bring nearly $1 billion of investments to these efforts."