The company, which prides itself on its sustainable approach to salmon farming, has seen its Barcaldine Hatchery recognised in the Carbon Reduction Award category of the Scottish Green Energy Awards 2021, announced today.
The accolade is the latest green honour for Scottish Sea Farms, which was recently awarded a VIBES Good Practice Award for its successful pilot of a bespoke hybrid power system aboard one of its feed barges, reducing fuel consumption and carbon emissions, and is also among 12 companies shortlisted by the VIBES for an Outstanding Achievement Award.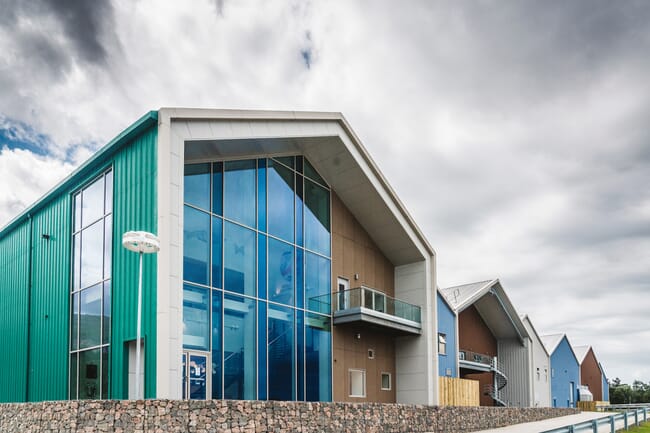 The Scottish Green Energy Awards showcase Scotland's renewables sector, honouring "the people, organisations and communities going above and beyond towards achieving net-zero", according to the organisation.

The health of farmed fish and the environment have been the key drivers behind Scottish Sea Farms' investment in its new salmon hatchery at Barcaldine, near Oban.
Among the greener approaches in operation is a 600kw biomass energy system. Supplied by AMP Clean Energy, it uses locally sourced, sustainably managed wood chip to provide the 17,500 m2 hatchery with much of its heat and hot water, saving 683 tonnes of carbon annually compared with oil. That's the equivalent of 6 million miles by car.
As for the farming technology itself, it has been designed to be similarly sustainable with a recirculating aquaculture system (RAS) that enables the team to:
Recirculate up to 98 percent of freshwater used per day, using 5 percent of the freshwater consumption of conventional methods;
Capture fish waste (primarily faeces or any uneaten feed) for re-purposing as nutrient-rich agricultural fertiliser to aid crop development;
Adjust water temperature via heat pumps and exchangers – energy-efficient alternatives to traditional kerosene boilers or electric chillers, with the added ability of recovering heat from waste-water for re-use elsewhere in the growing process.
Elsewhere on-site, further efficiencies are being made via motion sensor LED internal lighting; wind and solar powered external lighting supplied by Autonomous iOt; and electric vehicle charging points to encourage uptake amongst staff.
Provision has also been made for a hydro scheme so that the hatchery can meet more of its energy requirements in a greener way.
The winners of this year's Scottish Green Energy Awards will be announced at a black-tie awards ceremony on the evening of Thursday, December 2 at the EICC in Edinburgh.