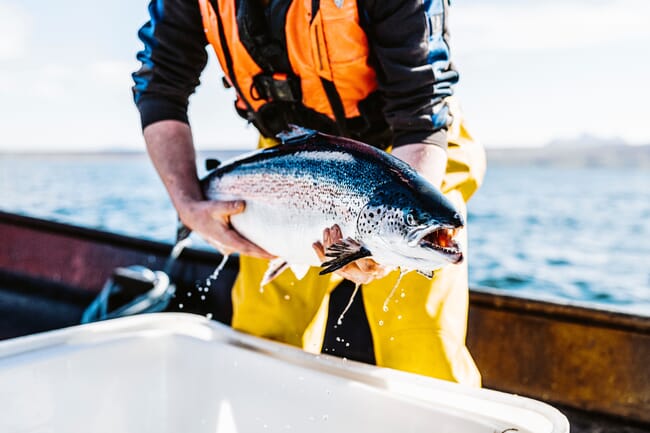 New HMRC data analysed by trade body Salmon Scotland shows that for the first three quarters of 2023, including September, there was a rise of £33 (€37.7) million to £478 (€546.6) million. On a rolling annual basis, exports of salmon fish stand at £611 (€698.7) million – confirming Scottish salmon's place as the UK's top food export.

In the first nine months of the year, 53,000 tonnes of Scottish salmon were exported to more than 50 countries. A total amount that equates to approximately 250 million meals.

The EU continues to be the key destination for exports, accounting for £287 (€328) million of the total seen in the first three quarters. France remains the single largest market for Scottish salmon, with sales of £211 (€241) million, although more exports are heading to other EU hubs such as the Netherlands, or directly to markets further afield, resulting in a fall.

Elsewhere, exports of Scottish salmon, beyond the EU increased 15 percent to £191 (€218) million, with one-in-five salmon heading to the US, equalling £113 million (€129) – up 11 percent.
Export growth in Asia has also increased by more than 40 percent in value (+41 percent) and volume (+42 percent) to £66 (€75) million and 5,400 tonnes respectively.
Special designation
With such high demand for Scottish salmon, Salmon Scotland is currently taking steps to protect the product from food fraud, where inferior salmon products with lower environmental and food safety standards are imported and could be sold as 'Scottish salmon'.

In 2004, genuine Scottish salmon was awarded with a protected geographic indication (PGI) which means only farm-raised Atlantic salmon from Scotland can be called 'Scottish farmed salmon'.

Wild Scottish salmon is not sold in supermarkets, and farm-raised salmon now supplies 100 percent of the increasing demand for fresh Atlantic salmon. The UK Government has therefore been asked to boost the legal protections for farm-raised Scottish salmon, particularly post-Brexit, by changing the PGI name simply to 'Scottish salmon'.

UK Government minister for Scotland John Lamont said in a report: "Our biggest food export is rightly renowned around the globe and is also of huge importance for many of our coastal communities, supporting thousands of jobs all over Scotland." He continued, saying: "The UK Government is determined to ensure it continues to enjoy a sustainable and profitable future. As we strike new international trade deals this will create more worldwide opportunities for Scottish salmon."

Tavish Scott, chief executive of Salmon Scotland, said: "These export figures underline the vital importance of Scottish salmon to the UK economy." He also added: "Potential changes to the legal protection for Scottish salmon will help to maintain the reputation for premium Scottish salmon abroad, as well as protecting against food fraud, which risks undermining the reputation Scottish salmon has for quality and provenance."