The Board of SSPO has played a crucial role in ensuring that the salmon farming industry and the SSPO is focused on delivering long-term, sustainable development. It was heartening to note that the key themes outlined in the Government's consultation on the renewed Strategic Framework for Scottish Aquaculture reflect the industry's own objectives.

We will continue in 2009 to engage with Government, regulatory bodies and other stakeholders in the development of policy affecting the industry. We will also debate and examine best international practice with our colleagues in the International Salmon Farmers' Association (ISFA), so that we maintain the Scottish industry's position as a leader in both European and worldwide markets.
Fact Box
The worldwide retail value of Scottish farmed salmon is over £1 billion

Salmon represents approximately 40 per cent of all Scottish food exports

The export value of Scottish farmed salmon is in excess of £150 million

The Scottish salmon farming industry exported more than 10 million fish in 2007

53 countries imported Scottish farmed salmon in 2007

Nearly half a billion Scottish farmed salmon meals were enjoyed worldwide in 2006

1 million fresh salmon meals are eaten in the UK every day

1 million smoked salmon meals are eaten in the UK every week

Scottish farmed salmon has held the French Government's top quality award, Label Rouge, for the past 17 years. It was the first non-French food to receive this accolade
As well as contributing towards the development of the renewed Strategic Framework for Scottish Aquaculture, SSPO has participated in many Government consultations, including the proposed Scottish Marine Bill. In general, the consultation document raised many issues relevant to the current and future development of the industry. SSPO welcomes the acknowledgement of the industry's socio-economic importance, the intention to reduce bureaucracy and the presumption of use in terms of activity in the marine environment. As our overarching goal is to ensure sustainable economic growth for the industry we will continue, throughout the progress of this Bill, to emphasise that sustainable development is key to the industry's future.

In addition to our dialogue with Government, we continue to engage with Local Authorities, enterprise agencies and other key stakeholders to discuss issues affecting the current and future performance of the industry. The planning process and the potential for improved availability of sites is a topical issue alongside the industry's strategic importance to Scotland's economy, especially remote, rural areas.

We have delivered progress in 2008 in the containment of fish (losses down by 62 per cent from 2007), due to increased investment in both training and equipment. We will continue to hold training workshops to maintain this progress in 2009 and, at the same time, ensure the latest techniques are reflected in the industry's Code of Good Practice.

SSPO aims to improve the regulatory regime for the industry by developing and maintaining a self-regulatory approach. We will invest significantly during 2009 in further developing the Code of Good Practice for Scottish Finfish Aquaculture, ensuring greater self-regulation in areas which, we have recognised, require enhancement.

This industry is strategically important to the economy of Scotland adding in excess of £430 million per annum to the nation's GDP. In these challenging economic times, a growing primary food production industry is of major benefit to a small economy trading in an international market. It is our goal to be one of the leading countries in the world for production standards and sustainable growth. This can only be achieved with the support of Government, both local and national, and other key stakeholders in the industry. I ask you all to support it.
Optimising Fish Health and Raising Standards Code of Good Practice for Scottish Finfish Aquaculture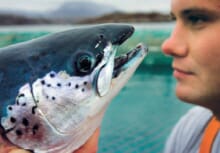 Since its introduction in 2006, the Code of Good Practice for Scottish Finfish Aquaculture (CoGP) has become well established as an industry standard. The Code was developed in consultation with a wide range of stakeholders and as a foundation for sustainable growth based on sound science, good practice and working with stakeholders and Government.

Compliance with the Code is audited by the Inspection Service of a UKAS accredited certification body (Food Certification International). This allows industry compliance to be monitored by the CoGP Management Group and reported to stakeholders through the Ministerial Working Group on Aquaculture. Over three years of compliance monitoring the industry has achieved an impressive level of performance.

Under the direction of the CoGP Management Group the Code will be reviewed and revised in 2009. This process will add additional focus on some aspects of environmental management, as well as reflecting new regulatory developments and scientific findings.
Fish Health
Effective control of sea lice and pancreas disease continue to be pressing fish health issues for salmon farmers.

The recognised principles of control practices such as fallowing and synchronous treatments are incorporated into the Code of Good Practice for Scottish Finfish Aquaculture (CoGP) and the industry welcomed the introduction of AMX as a sea lice treatment in August 2008.

Training workshops on sea lice control, delivered through the North Atlantic Fisheries College, are planned in Shetland for 2009 following the success of similar workshops just over a year ago. Access to a vaccine for Pancreas Disease improved during the year but SSPO and its members continue to work together on this issue.
Food Safety
The Food Standards Agency (FSA) initiated a survey of Ready to Eat Smoked Fish as part of a wider surveillance exercise in light of the increasing incidents of Listeriosis. SSPO provided technical analysis and briefings on the industry's high level of performance to the FSA in Scotland and UK. As a result the FSA secured a positive outcome for European salmon farmers at the Codex Alimentarius discussions on listeria monocytogenes in food, which were running parallel to the FSA surveillance.
Fish Health and Welfare Policy
A significant part of the SSPO work programme in 2008 involved anticipating new developments in relation to the regulation of the industry, particularly in matters of fish health and welfare. The new European Fish Health Directive is designed to improve free trade between countries and SSPO represented members' interests to achieve a balance between the commercial opportunities arising from importation of eggs from Norway and the vitally important issue of biosecurity.

In 2008, SSPO worked with Scottish Government and Fisheries Research Services (FRS) to achieve pragmatic and proportionate implementation of the Aquaculture and Fisheries Act 2007 and Statutory Instruments, acting as a backstop to the industry's Code of Good Practice.
Containment
SSPO members have demonstrated their commitment to reducing breaches in containment and the numbers of fish lost from member companies are down 82 per cent on the previous year. The industry's performance in 2008 represents the lowest number of fish lost since statutory reporting began in 2002. The overall total of salmon lost is down by 62 per cent compared to 2007.

SSPO ran a series of containment workshops to share expertise and knowledge between companies. A project to trial new nets began in Sutherland and the Western Isles to improve performance on containment, a project co-ordinated and part-funded by SSPO, Scottish Government, DSM Dyneema, Badinotti and Boris Net Company Ltd.
Predators
Predation is estimated to be one of the main causes of escapes, responsible for some 35 per cent of incidents. Our continuing work to deter predators includes updating the 'Salmon Farming & Predatory Wildlife' code of practice early in 2009 and incorporating the revised document into the updated Code of Good Practice review. SSPO will also work with seal experts at the Sea Mammal Research Unit (SMRU) at St Andrews' University to develop new acoustic deterrent measures.
May 2009