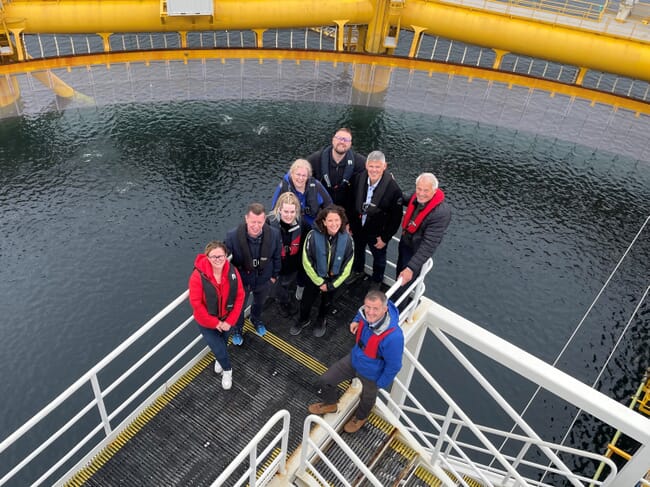 On the tour, hosted by SalMar - co-owners of Scottish Sea Farms - the fact-finding mission began with a visit to Ocean Farm 1, the world's single largest fish farming installation. Pioneered by SalMar, the semi-submersible offshore farm measures 110m in diameter with a total height of over 50m and is designed to hold up to 1.6 million salmon.
In operation off the coast of Norway since 2017, it has now successfully completed two production cycles, the learnings from which are now helping inform the next generation design.
En route to Ocean Farm 1, Ms Gougeon was also shown one of SalMar's open pen farms which, whilst similar in approach to many Scottish farms, is equipped with 15 x 160m pens capable of producing nearly 10,000 tonnes of fish – three times the biomass currently permitted in Scotland.
Commenting on the advances in farming approach, Gougeon said "I am pleased to have had the opportunity to see Ocean Farm 1 first-hand. Innovation is vital to support our ambitions for a sustainable aquaculture industry and supply chain in Scotland, as set out in our recently published Vision for Sustainable Aquaculture".
Scottish Sea Farms Managing Director Jim Gallagher, who accompanied the Cabinet Secretary, alongside Head of Sustainability and Development Anne Anderson and SalMar executives, said the Scottish sector is keen to mirror Norway's innovative ways of working, improved efficiencies and enhanced green credentials.
'When it comes to discussing the potential for the sustainable growth and development of the Scottish farmed salmon sector, where better to come than Norway, the global leader, with the opportunity to see the latest innovations in practice,' said Mr Gallagher.
"At the open pen farm, the depth and tidal flows are very similar to those in Scotland but with more space and capacity permitted, improving water exchange, fish health, and, in turn, security of supply".
"It fits well with our own drive to modernise and consolidate farms into fewer locations but with larger pens. Being able to see these kinds of advances in best practice really is the best way to build up knowledge and we're immensely grateful to Ms Gougeon for her time and interest," he added.
Following this tour of Norwegian innovations in aquaculture, the rural affairs secretary will today open the Scottish pavilion at Aqua Nor, which runs from 22 to 24 August.