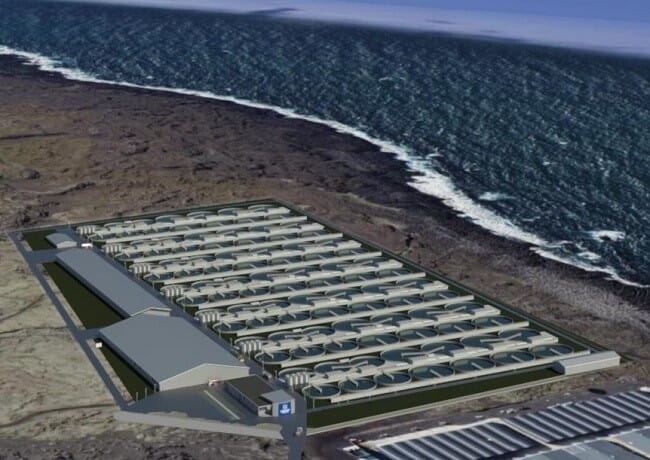 The company plans to build in three phases over the next eleven years at a park beside the Reykjanes Power Plant. It will consist of a hatchery, an ongrowing farm, a processing house, and service buildings. The total investment is estimated at over ISK 45 billion (£263 million).
The board of Samherji has decided to provide funding for the first phase of the project, but it is planned to seek funding from investors for further expansion of the facilities. The fish farming plans in the Resource Park are considered significant compared to other aquaculture projects currently being prepared in Iceland and internationally. A general briefing about the project will streamed live at 2pm today.

Work on the assessment process, licensing and design has begun and is scheduled to be completed next year. According to Samherji's plans, juvenile production will start in the first phase in early 2023 and continued farming and processing of products in 2024 and 2025. In the first phase, 10,000 tonnes of salmon will be produced, with an estimated investment of ISK 17 billion. In the second phase, 10,000 tonnes will be added, and in the third phase, 20,000 tonnes. If everything goes according to plan, the land-based farming in the Resource Park will be at full capacity by 2032.
Samherji fiskeldi, which is part of the Samherji group, already has some activity in Iceland's Southern Peninsula, where it operates a processing plant in Sandgerdi, a farm in Stadur by Grindavík and a farm in Vatnsleysuströnd. In addition, the company has a salmon farm in Núpsmýri by Kópasker and a hatchery at Núpar in Ölfus.
The construction of the proposed fish farm supports HS Orka's goal of utilizing excess resource streams from its geothermal power plants, which today flow partly unused to the sea. Conditions in the Resource Park are favourable when it comes to access to electricity, geothermal energy, warm sea and geothermal seawater.
Tómas Már Sigurdsson, CEO of HS Orka said: "In this project, seawater from the Reykjanes Power Plant will be used to ensure a constant ideal temperature for fish farming. Finally, it is gratifying that with these plans, activities in our area of operation will increase, whether in terms of increasing the number of jobs in aquaculture activities within the Resource Park itself or related industries in the Southern Peninsula."
Jón Kjartan Jónsson, managing director of Samherji fiskeldi, added: "The management and staff of Samherji fiskeldi have worked hard on this project in Reykjanes for almost a year. It is a big step for us to finalise these agreements and be able to start building the project. We have achieved good results in aquaculture on land, and this investment reflects the confidence we have in the continued growth of this industry. We are excited to build in this area and to enjoy the benefits of close proximity to HS Orka and the Reykjanes Power Plant. In this area, there are some of the best conditions for aquaculture we have seen. The utilisation of warm seawater flowing from HS Orka's power plant is a major factor in making this project feasible. Not least, this is a very environmentally friendly production which the market is demanding."