Mowi will be hitting the road with its eye-catching salmon wagon following its launch at the company's UK consumer products headquarters in Rosyth, Fife, on 19 July.

The wagon serves salmon fillet burgers and salmon noodle salads made with fish from Mowi farms located in the cool waters of Scotland's west coast. And, after the 2019 pilot year, the striking, salmon-themed wagon will be made available to charities across Scotland for events, with all proceeds from the sale of the food going straight to their cause.
This summer the Mowi salmon wagon will be visiting the company's offices and sites across the country before heading to a series of festivals and events, including the Eilean Dorcha Festival (EDF) on the Isle of Benbecula on 26-28 July and Lochaber Agricultural Games on 24 August.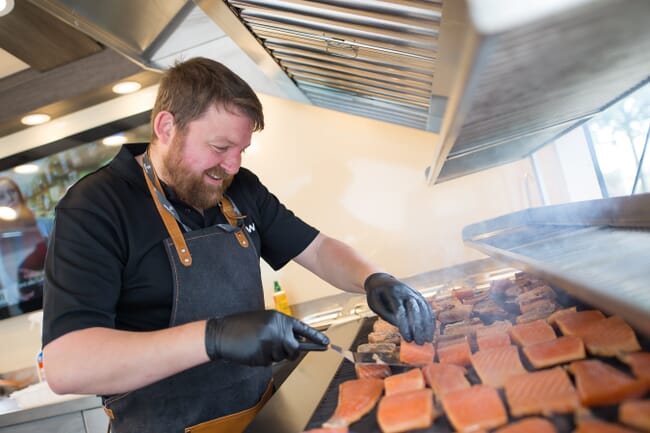 Speaking at the launch, Ian Roberts, director of communications and business development at Mowi Scotland, said: "We are excited to launch the Mowi salmon wagon to staff at our Rosyth HQ. Soon we will be hitting the road with the wagon and we can't wait to see the response at the trial events we plan to attend. Most importantly, it will be great, after months of planning, to finally launch the wagon and start raising money for charities and communities across Scotland."
From 2020, charities will be able to apply to have the salmon wagon at their event. Information on how to apply will be released later in the year.
Mowi is the world's largest producer of salmon, providing one-fifth of the world's supply to a growing demand for healthy seafood. Employing 1,500 people in Scotland, the company operates three salmon hatcheries, five freshwater loch sites, 49 sea farms, two processing plants and a feed mill.