The salmon producer has joined with Plan Bee to launch a long-term strategic biodiversity initiative, with hives installed near one of the salmon producer's sites in Sutherland. This first stage of the project aims to encourage and sustain Scottish honey bee populations in northwest Scotland.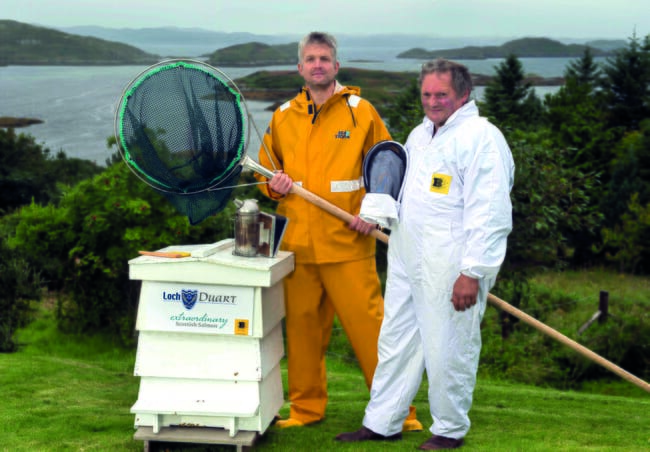 Loch Duart's new hives, which will house around 300,000 bees, are part of an extensive pollinator project, which will include planting a range of native flowers and wild forage gardens around the areas where the hives are established. Plan Bee will provide Loch Duart with a bee management plan and a dedicated beekeeper who conducts regular site visits and assessments to ensure the good health of both bees and plants.
The project will also provide resources for local schools to plant their own wildlife gardens with pollinator friendly, native flora in both Uist and Sutherland. Through Plan Bee's education programme, children will take part in workshops to explore Biodiversity in the distinctive ecosystems of this part of Scotland.
Honey produced in the hives will be used in Loch Duart salmon recipes. Patrick Evans, Loch Duart's Food Ambassador, will devise and share several honey glazed Loch Duart Salmon recipes in support of the British honey bee.
Alison Bell, managing director of Plan Bee, said: "From our very first meeting with Loch Duart, hearing of their dedication to sustainable farming methods and their high quality Scottish provenance, we knew a partnership was meant to be. Plan Bee is focused on protecting British honey bees, but also engaging local communities in providing habitats for native pollinators. Loch Duart is a significant local employer that cares deeply about its local environment, so really this amazing partnership is a summation of the values that drive both of our businesses.

"We can have a positive environmental impact that will be appreciated for generations to come. Salmon lovers can enjoy each bite knowing their delicious healthy meal is also helping protect our bees."