Results of the trial, which is currently running in the Chinese province of southern Yunnan, were among the highlights of the FAO-organised 'Advanced Integrated Agriculture-Aquaculture through Agroecology' session, which took place at Aqua2018 last month.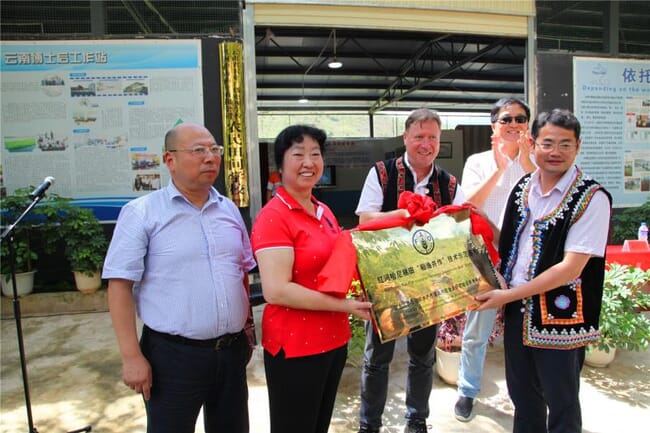 The results were presented by Yanni Xiao, from Yunnan Zhonghai Fishery Company (YZFC), and suggest that the co-culture of rice and fish could dramatically improve farmers' livelihoods in Yunnan – one of the poorest regions in China. One of the distinctive features of the region is the huge area – 1 million mu (66,667 hectares) – of Hani terraced fields in Honge Autonomous Prefecture. While this may have helped the prefecture gain World Heritage and Globally Important Agricultural Heritage Site (GIAHS) status, she explained, the economic return of rice production is low, due to limited productivity and poor market price.
"There is hardly any mechanization in the terraces and farmers depend on physical labour, meaning that more young people are leaving the land to find work in the cities, causing many terraces to be abandoned. At the same time other farmers are diversifying into sugarcane or vegetable production and the pesticides they use pollute the terraces," she reflected.
In order to reverse these trends and reduce poverty, in 2016 YZFC, supported by the Freshwater Fisheries Research Center (FFRC) of the Chinese Academy of Fishery Sciences (CAFS), set up a research project in Honghe to study locally-appropriate solutions. They determined that the terraces were eminently suitable for integrating rice and loach production.
As Yanni reflected: "In terraced fields up to 700 metres above sea level, loaches can be farmed in three cycles each year, with the annual output of 1.5 tonnes per mu. Above 700 metres, loaches can be farmed in two cycles each year.
"The project aims to build 100,000 mu (6,666 hectares) of high yield fields in the county, and estimates that this could generate $184 million a year annually – allowing 22,000 households to improve their annual income by $6,000 – lifting more than 51,000 people above the poverty threshold."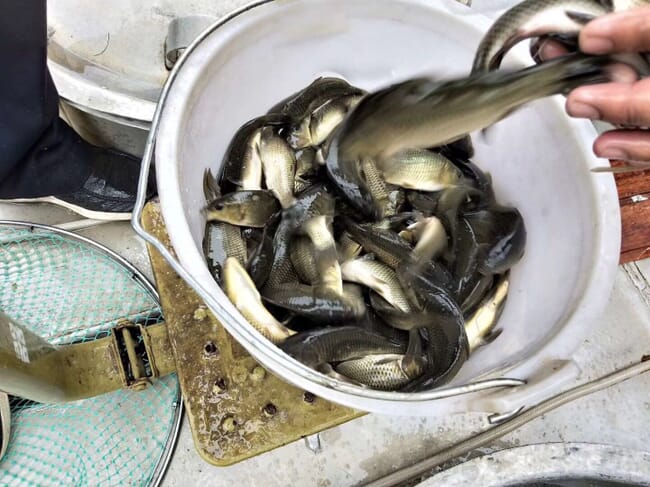 In order to support this, Yanni explained, YZFC has established a functioning value chain – from species selection, to breeding, grow-out production, processing and marketing.
In addition, YZFC has also trained 20,000 farmers in Honghe since 2016 and established a local farming co-operative who have helped to share technical experience, deal collaboratively with external suppliers, set farming standards and help with marketing.
Moreover, YZFC guarantees to provide fry at 30 percent below the market value. After the fish have reached market size, farmers can sell fish ether to the market or to YZFC.
Finally, those farmers who own land but are unwilling or unable to diversify into aquaculture have been encouraged to transfer their terraces to farmers who wish to scale up their own rice and fish production. The landowners not only receive rent but can also work – for money – on their own fields.
"This cooperation model has effectively solved the problems of farmers' lack of breeding technology and marketing connections," Yannie explained.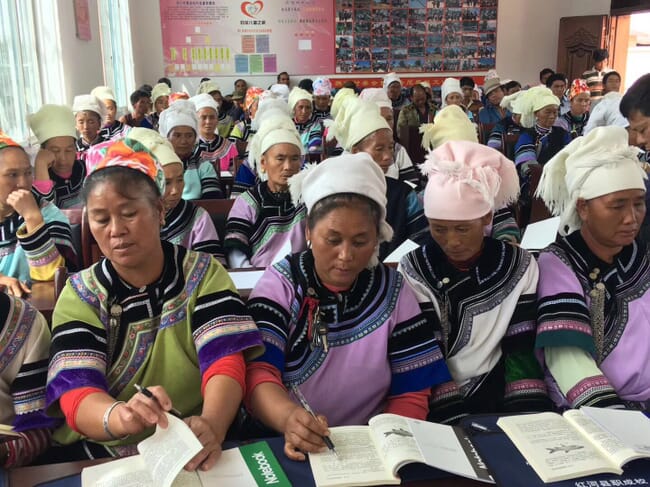 Achievements to date
By the end of 2017, Yanni reported, ZFC had provided a total of 160 million fingerlings to Hani terrace rice-fields, covering an area of 1,500 hectares, and helping more than 10,000 people climb above the poverty threshold.
On June 15, 2017, FAO officially opened the YZFC Hani Terrace "Integrated Rice-Fish System Research and Training Center" which is the first of its kind with such an award by FAO in China.
At the beginning of 2018, YZFC started the experiments on integrated rice-bullfrog system on the edge of the terrace fields which are rarely used in rice production.
"We hope the trial will help to improve the utilization and yield of terraces, but we are just at the beginning of test stage," said Yanni.
"In the future, FFRC and YZFC will extend the programme to more paddy fields, introducing suitable aquatic species based on the conditions in different regions. We will focus on the advantages of rice-fish farming for the benefit of the indigenous and local communities," she concluded.