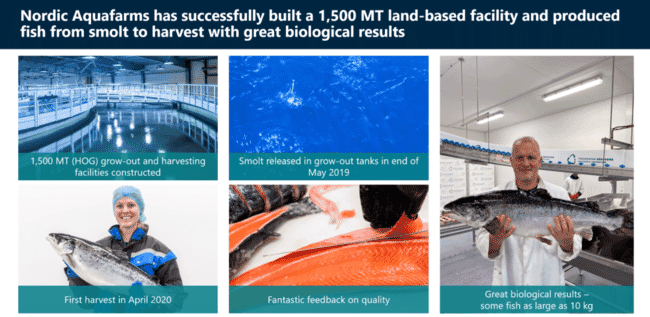 Speaking at the Smolt production in the future conference, Simen Haaland from Frederikstad Seafoods explained that the company's first harvest took place in April 2020 "after a start-up phase full of technical challenges, nevertheless we have produced large and heathy-looking fish."
Fredrikstad Seafoods is a subsidiary of Nordic Aquafarms, which also produces yellowtail kingfish in Denmark and is seeking permission to build 33,000-tonne salmon facilities in Maine and California.
Its Norwegian site is 40 miles south of Oslo and contains two recirculating aquaculture system (RAS) modules. Operational conditions at the site include a 24-hour lighting regime and maintaining the water temperature at 12-13.5°C, Haaland explained.
According to Haaland the facility is set to produce 420 tonnes of salmon during 2020 – just under a third of its 1,500-tonne capacity. He said that that the fish had been growing well, with an average harvest size of 5.6 kg recent weeks, and some individuals growing from 100g to over 7kg in under 12 months. Current harvest rates are 17 tonnes a week.
Other key statistics from the first year of operation have included a mortality rate of 5 percent. Haaland also noted that the facility had successfully reaching stocking densities of up to 95kg per cubic metre – the densest that the facility is designed for – although the average was closer to 70kg per cubic metre. Promisingly, no off-flavour issues have, according to Haaland, been reported to date and sexual maturation rates have been low.
"The feedback from our clients [who include Coop Mega, one of Norway's largest supermarket chains] has been very good and we feel that the flow-through conditions, the seawater, the focus on the fish welfare and the purging have brought an absolutely brilliant taste and end product," he explained.
Looking to the future Haaland emphasised the importance of fish welfare, logistics, grading and harvesting.
"The feed composition is also very important, we are now in a phase where we are evaluating the nutrition substances and also evaluating the results of the RAS in general," he added.
Haaland was less forthcoming about the current production costs per kilo of salmon but assured delegates that "we will be competitive once production levels reach maximum levels."