Regulatory breakthrough for Europe's insect producers
Mealworms, which are increasingly being farmed as aquafeed ingredients, have been deemed safe for human consumption this week by the European Food Safety Authority (EFSA).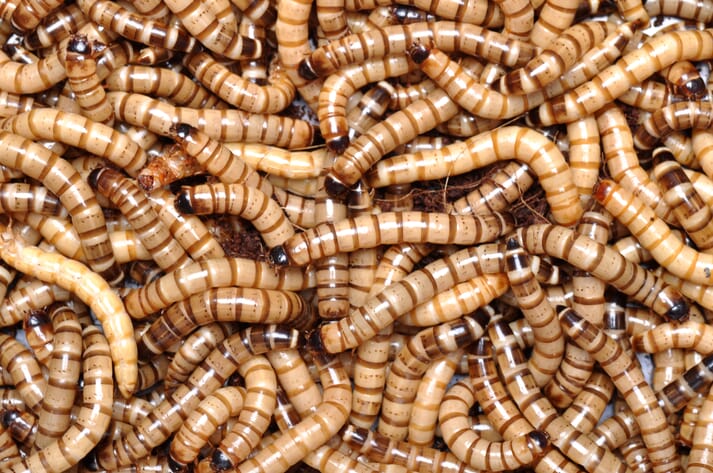 The decision still has to be confirmed by the European Commission's Health Directorate General, which will give the final authorisation for market approval in the European Union.
According to mealworm producer Ÿnsect, it is the first insect species to receive a positive safety evaluation for human consumption in the world, offering hope for the growth of the entire insect farming industry. It is also, they say, a recognition that mealworm ingredients are premium products, as they have been deemed to be "food grade" before other insects which are still only used in animal feed.
"We need to celebrate this breakthrough. It is a major achievement that rewards the work that has been done for years by the entire European insect industry gathered under the IPIFF umbrella. It demonstrates, if proof was needed, the excellence of the European and French insect industry and its global leadership," said Antoine Hubert, CEO of Ÿnsect, in a press release.
Growing market potential
After authorising insect proteins to feed farmed fish, and while waiting for the authorisation to feed poultry and pigs (tentatively expected this year), this notice reinforces market expectations for the insect industry. Even if it only concerns the whole insect for now, this new EFSA assessment is a key step for the overall insect sector towards selling mealworms for human consumption. It paves the way for future approvals of defatted protein ingredients, which according to Ÿnsect, represents the largest and most promising human food market segment in terms of value and volumes, especially in sports (muscular performance and regeneration) and health nutrition.
Ÿnsect has raised more than $435million, recruited 130 employees, and is in the process of building the world's largest insect farm, with an aim of production of more than 100,000 tonnes per year. It has already signed a first multi-year commercial contract within these markets.
The EFSA assessment recommends the need to "carry out research on the allergenicity of the yellow mealworm". However, Ÿnsect says that the data it provided last November in the Novel Food file submitted on defatted protein ingredients address these questions.
The studies, conducted by the University Medical Center Utrecht (UMCU) show specifically that allergen risk is greatly reduced for defatted protein powders, such as ŸnMeal, produced by Ÿnsect, compared to whole insect dried meal. These studies, together with a mutagenesis study, will be crucial elements for the future approval by the European Commission DG Health and to bring these products to market.
All these studies are also beneficial for pet food companies to increase the use of insect proteins in these markets as food safety requirements are very stringent in pet food markets too, especially in Europe and the US.
"We hope that this positive assessment will be the first of many and that it will facilitate approvals by reassuring the European and non-EU authorities of the trustworthiness of our industry. In order to support the development of the sector, Ÿnsect has decided to submit its Novel Food application in 2020 without requesting exclusivity and 5 years of data protection, so that Ÿnsect's data can be used by all in the industry once validated. Ÿnsect will also be filing a Generally Recognized As Safe (GRAS) request with the United States Food and Drug Administration (FDA) in the coming months," said Hubert.
"Ÿnsect's goal is to pave the way and help the industry grow to meet the crucial challenges of tomorrow: feeding the planet, preserving the environment and its biodiversity, and fighting against climate change. In order to feed the planet by 2050, humans must produce 70 percent more using only 5 percent extra available land. It's time to develop alternatives to produce more and better," he concluded.