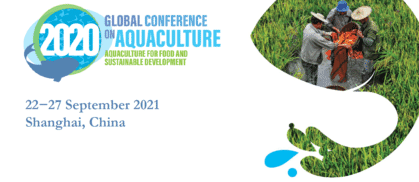 Originally planned for October 2020, but postponed due to the Covid-19 pandemic, the GCA will now be held from 22–27 September 2021 in Shanghai and registration can be accessed here.
According to FAO, the event recognises "the critical role of a diverse aquaculture sector for food security and poverty alleviation, the expectation for aquaculture to fill the increasing global fish supply and demand gap, the need to exchange information and experiences, and the importance for a common vision and appreciation on how to achieve the sustainable growth of this food sector".
It is being held in collaboration with the Network of Aquaculture Centres in Asia-Pacific (NACA) and the Ministry of Agriculture and Rural Affairs (MARA) of the People's Republic of China.
GCA +20 will be the fourth in a series of development-oriented conferences that have shaped global aquaculture: Kyoto (1976), Bangkok (2000) and Phuket (2010).
Under the theme "Aquaculture for food and sustainable development", the GCA +20 aims to bring stakeholders from government, business, academia and civil society together to identify the policy and technology innovations, investment opportunities and fruitful areas of cooperation in aquaculture for food and sustainable development. A key output from the GCA +20 - The Shanghai Consensus - will highlight the principles and strategic pathways to maximise the contribution of sustainable aquaculture in achieving the UN's sustainable development goals and meeting the pledge of "Leaving no one behind".
Registration details
Interested participants are invited to complete the application form here: www.aquaculture2020.org/registration, and the GCA +20 Secretariat will inform registrants as to the status of their application in due course.
Registration will allow attendance of conference in-person or virtually, with the indicated preference taken into account to the extent possible. The maximum number of in-person participants will have to be capped, in close consultation with the host and in line with the latest advice from health authorities. The GCA is open to all interested stakeholders, including from government, academia, private sector and civil society. Women and youth (35 years of age or younger) are strongly encouraged to apply. Kindly note that registration is free.