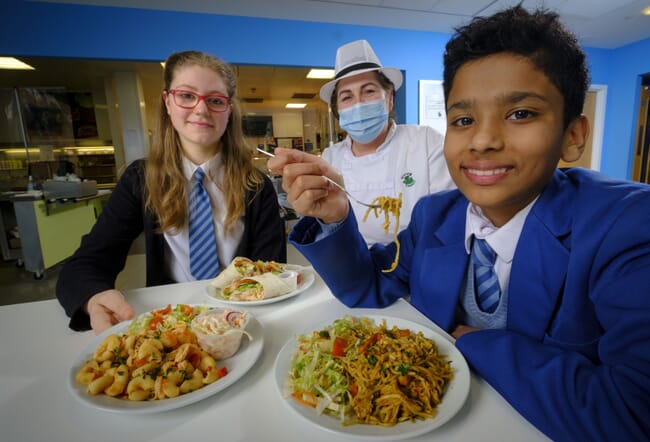 A 12-week pilot is underway in six of the seven secondary schools across the Stirling Council area, supported by the local authority and welcomed by the Scottish Government.

Locally-sourced salmon meals are being made available in canteens once-a-week, along with information on the major health benefits of eating oily fish. Meanwhile, over 20 simple family-friendly recipes are being taught in home economics classes.
The Scottish Association for Marine Science (SAMS) will provide an independent scientific evaluation of the project, measuring both take-up of the salmon and receptiveness of the pupils to the information.
The pilot could pave the way for a national roll-out, in line with the Scottish Government's 'Good Food Nation' policy which recognises Scottish salmon as high quality and healthy.
Salmon contains high levels of protein, which is good for developing bones and muscle, and Omega-3, a fatty acid known to be highly beneficial to the brain. A recent study by the Nutritional Analytical Service found that Scottish salmon has 4.5 times the daily recommendation for special omega-3 fats found in marine foods, and more than half our daily protein needs.
Salmon is being offered to the majority of the 6,300 secondary pupils in and around Stirling, served alongside existing options such as macaroni cheese, chicken curry and noodle stir fry. One secondary school in the Stirling area will not offer salmon, functioning as a control sample for the scheme.

Rural Affairs Secretary Mairi Gougeon said in a press release: "I would like to congratulate Salmon Scotland on this innovative project. Scottish farmed salmon is a tasty, nutritious and low-carbon food that is enjoyed at home and abroad. I am delighted that this iconic seafood is being introduced to a new generation and look forward to seeing the results of this initiative."
Tavish Scott, chief executive of Salmon Scotland, said: "We are hugely grateful to Stirling Council, the Scottish Government, academic partners and SAMS for partnering with us for this project. We look forward to the results of this pilot and hope a national roll-out will follow so that more young people can make informed choices about healthy food to go with heathier lifestyles."