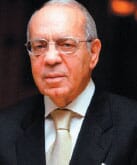 Izzat H. Feidi, Fisheries Consultant
This phenomena is becoming a serious threat to an essential source of animal protein to millions of people and consequently threatening the livelihood of fishermen communities and workers in various branches of fisheries industries especially in rural areas where most of those working in the fisheries sector live and operate.
This global situation equally affects the Arab region in where there are 22 Arab states bordering two major oceans, three main seas with several gulfs and inland waters where there are main and minor rivers and several fresh and brackish water lakes, reservoirs and water surfaces and from where the present fish landings in Arab markets originate. According to FAO latest fisheries statistics, the 2011 fish landings from all sources reached 3.5 million tonnes of which 2.8 m. t. from marine capture fisheries and 1.1 m. t. from aquaculture. However, the Table attached is for a three years period (2009-2011) shows that capture fisheries are on a declining trend while aquaculture is on the rise.
Table: Summary of Arab Fish Landings for 2009-2011
22 Countries
2009
2010
2011
Capture
Aquaculture
Capture
Aquaculture
Capture
Aquaculture
Year's Totals
2,564,885
771,502
2,637,376
987,712
2,470,009
1,058,467
Grand Total
3,336,387
3,625,088
3,528,566
In a broader analysis, when considering the current Arab region's consumption of fish for a total population of 350 million people, the average per capita consumption does not exceed 10.0 kg. /person which is considerably below the international average of 18.5 kg. /person. Furthermore, the Arab population by 2020 is expected to increase to about 430 million people. If the per capita consumption remains constant then the extra demand for fish by 2020 would be in the range of an additional 600 thousand tonnes. Some stock assessment surveys indicate that marine capture fishing grounds bordering Arab states could annually yield up to 4.1 m.t. which means an additional 1.3 m. t. over the 2011 capture landings of 2.8 m. t. Such an increase would cover the demand by 2020 assuming that fishing operations are carried out in a sustainable manner and that the Illegal, Unreported and Unregulated (IUU) fishing operations by foreign fleets in Arab Exclusive Economic Zone (EEZ) waters is dealt with.This addition in landings does not take into account the potential annual increase in aquaculture production.
Basis for investment promotion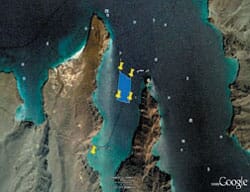 Suitable sites selected for Aquaculture in Oman
In June 2013 the Center for Marketing Information & Advisory Services for Fishery Products in the Arab Region (INFOSAMAK) held in Hammamet, Tunisia, a Seminar on "Financing and Investing in the Fisheries Sector in the Arab Region". The concept behind holding the Seminar is that several states in the region searching for growth in their national economies are drawing investments since the region is undergoing major changes and seeking for new areas for investments. Fisheries seem to be a sector which encourages expansion and it established conditions to make the industry more competitive and more attractive. In fact, the new tendencies of the fishing policy in many of the Arab states have given a relatively strong impetus to the sector, while securing responsible and sustainable fisheries.This new motivation created encouraging conditions, business and investment opportunities in the fisheries sector and in the industrial activities relating to seafood products are now available to stakeholders and investors from the region and from around the world.
Investment opportunities
Investments through joint ventures
In the last two-three decades, several joint venture agreements in fisheries were reached between Arab states as a way to increase investments and develop the Arab fisheries sector. This was also due to the understanding that the 'fish-having' states needed capital from the 'capital-having' states. Unfortunately these ventures were impeded by several stumbling blocks and hindrances and most of them did not last for long. However this investment opportunity may be revived with the new impetus on investments.
Investments in joint venture projects remain to be the best available means to develop Arab fisheries resources for years to come. These ventures could be established between Arab partners and or with competent and experienced foreign partners. There are various possible combinations in ventures which have inherent advantages for all parties concerned. The establishment of joint ventures provides the most expedient opportunity to develop the fisheries sector in few years and spread the various benefits that are expected of them. A carefully reached joint venture agreement between the parties concerned has a distinct improvement over licensing or chartering foreign fishing vessels. It provides an opportunity for a more rational exploitation of the resources and ensures to a large extent their conservation and protection.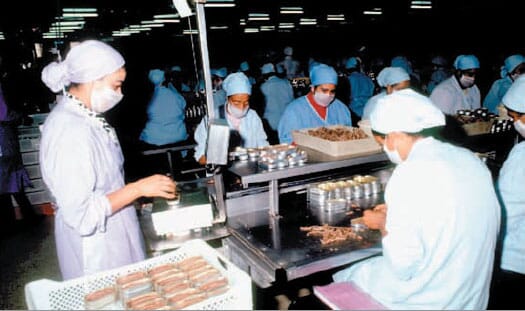 Quality control in a Sardine canning Plant
Other possible advantages of fisheries joint ventures are:
Joint venture companies will have higher technology levels and undertakes the training of a new generation of human resources and capacity building as well as competitiveness;


Such ventures will help thwart IUU fishing in Arab marine waters and reduce fish poaching and pirating;


Companies will be better exposed to the outside world in the field of technology transfer and adaptation through foreign participation as well as in external marketing including sharing in international corporations;


Introduction of new handling techniques and hygienic procedures to produce quality products that meet international standards to trade with international markets such as European, American and Japanese markets;


The mass production law leads to obvious savings in the means of production, purchase operations and economy in the general expenditures;


Increased fish landings will provide the opportunity to improve quality of production of value-added fish and other seafood products for local consumption and export and help reduce imports and conserve hard currencies;


Expanded activities will create employment opportunities in various aspects of the fishing industry creating a well-trained cadre of fisheries professionals;


The exploitation of new fishing grounds will reduce the competitiveness with the small-scale fisheries sector in the off shore grounds and opens the opportunity to fish new commercially marketable species;


Arab joint companies will enhance economic relations among the Arab states by enhancing the transfer and exchange in means of production and help reduce trade barriers;


The increase in the number and volume of Arab commodities produced and traded among the Arab countries will produce an increase in Arab commercial trade thus making inter-Arab trade more important; and


The Arab interests will be realized through the participation of human, financial and material resources and through obtaining revenues correspondingly to each of these resources to the country of outflow, in addition to making profitable use of the primary raw materials and intermediary products.
Investments in Aquaculture
The current trend for Arab States fish production shows a decline in capture (wild and inland), while aquaculture production is steadily rising. Aquaculture in the region was limited mostly to Egypt, Sudan and Iraq but in recent years most Arab states established various aquaculture projects. Aquaculture development in the Arab states may take several forms provided that any obstacles are somewhat eased in time. Some of the forms may be practiced instantly in Arab states while others still require years of research and experimentation. The various currently known forms of aquaculture may be in the following areas:
Freshwater, brackish and salt water aquaculture: Already this method of aquaculture provides the Arab states with about 30 per cent (Table) of its fish supply and the trend is rising. This form may also include poly-culture, i.e. rotating at least two species of fish with different levels of feeding in the same fish enclosure. This may also include domesticated ducks swimming above.
Table: Arab Countries Capture and Aquaculture Landings 2009-2011 (Tonnes)
Country
2009
2010
2011
Capture
Aquaculture
Capture
Aquaculture
Capture
Aquaculture
Algeria
126,209
2,159 F
92,389
1,755 F
100,256
2,238 F
Bahrain
12,809
2
13,049
3
8,711
3
Comoros
20,450 F
---
52,261
---
25,070
---
Djibouti
1,058
---
1,058 F
---
1,667
---
Egypt
379,115
705,490
376,611
919,585 F
367,266
986,820 F
Iraq
34,505
18,732
25,720
20,320
31,541
20,300
Jordan
569
440
486
541
500
575
Kuwait
4,000 F
360 F
4,000 F
360 F
4,500 F
360 F
Lebanon
3,761 F
803 F
3,761 F
803 F
3,761 F
1,280 F
Libya
49,500
240 F
47,470
240 F
28,480
240 F
Mauritania
200,908 F
---
256,850 F
---
351,004
---
Morocco
1,076,167
1,245 F
1,081,681
1,227
899,287
1,182 F
Oman
151,993
118
154,132
127
150,897
157
Palestine
1,412
115
1,626
280
1,261
189
Qatar
14,020
36
13,691
36
12,938
36
S. Arabia
65,515
26,118
63,420
26,369
62,600
26,750
Somalia
29,400 F
---
29,400 F
---
29,400 F
---
Sudan
71,690
2,200 F
71,700 F
2,200 F
71,000 F
2,200 F
Syria
6,517
8,697
6,570
8,610
4,850
8,000 F
Tunisia
90,492
4,747
88,324
5,256
91,601
7,965
UAE
77,309
0-
79,092
0-
74.659
172
Yemen
147,486 F
---
174,085 F
---
147,984
---
Year Total
2,654,885
771,502
2,637,376
987,712 F
2,470,099 F
1,058,467 F
Grand Total
3,336,387
3,625,088
3,528,566
F=FAO Estimate; 0-=Less than one unit; ---=No landings
Source: FAO-Fisheries and Aquaculture Information and Statistics Service: March 2013
Mariculture, fish farming in marine waters: In recent years mariculture along the coastline of several states has become an important option to increase supplies of fish and other seafood items.


Capture-based aquaculture: This is the latest form of aquaculture technology. It is the practice of collecting "seed" from adults in the wild, and its subsequent growth to marketable size in captivity, using aquaculture techniques.


Fish-fattening farms: This practice is already practiced in Oman by which stocks of small size finfish, yellow-fin tuna fish in particular, are collected from the wild and fed in a coastline cage farm to huge sizes for export to lucrative tuna markets especially Japan.


Aquaponics: This system combines fish farming with the production of higher plants, mostly vegetables, flowers and herbs particularly suited to closed recirculation systems.
Off-shore cage aquaculture is a distinct possibility. Several suitable sites to deploy such cages may be selected. However, it is believed that the most currently appropriate open sea to launch a marine aquaculture venture is the Arabian Sea with bases in Oman and/or Yemen. The Arabian Sea is home to more than 1,200 species of fish. It has the most intense coastal upwelling system in the world generating rich nutrients for feeding shellfish. The consequent high phytoplankton productivity and biomass along the coasts of Yemen and Oman make this region one of the richest fisheries grounds in the world.
The Arabian Sea which extends into the Indian Ocean has great potential for open-ocean marine aquaculture development. With 3,700 kilometres of coastline between Oman and Yemen both countries has untapped potential to exploit this valuable resource with the development of a marine aquaculture industry. The 200-mile EEZ extending seaward into the Gulf of Oman and Arabian Sea presents a promising proposition for diversifying and augmenting Oman's and Yemen's economies. A marine aquaculture industry for the Arabian Sea would increase food security and mitigate the depletion of sparse water for agricultural resources, raises the standards of living of fishermen in coastal communities by creating jobs, generating extra income, and help diversify the economies of countries with limited natural resources. So far several high value fish and crustacean species are considered suitable for off-shore aquaculture in the Arabian Sea. These include Sea bass, Bigeye tuna, Cobia, Grouper, Snapper as well as shrimps and abalone. More species could be identified in due course.
Funding support for investments
There are several areas which may be considered as providers of opportunities for seeking support to the funding of investments in fisheries projects. These areas may be summarised as follows:
Public and private investments:
On the national level, it is well established that the required domestic investments in fisheries activities could not be realized alone by either the private or public sectors. It is also well understood that the projects pertaining to building the infrastructure or the facilities and services in the sector could be undertaken by the public sector.The private sector would compete in fisheries projects. In this regard most of the public investments in the sector are mainly carried out in support mainly the small-scale fisheries sector by building of infrastructure facilities such as fishing ports, utilities of power and water supply, roads, markets, cold stores, administration buildings, etc. to services the industry especially in the rural areas. However, in spite of the the variation in the levels of fisheries public investments, depending on the economic standing of each state, the Arab region in general is gradually becoming more aware of the importance of the sector. Several steps have been taken to change the situation and pay more attention to it.
As far as private investments are concerned, this is generally left to the initiative of fishermen and entrepreneurs either on individual basis using personal and/or family savings or through memberships in fishermen's groupings such as fishermen's associations or cooperatives. In addition, national investments in the semi-industrial and industrial scale took place in several Arab states through the formation of large scale fishing companies either on individual basis or through shareholding companies. Several of these companies over the years made breakthroughs in developing the national fisheries sector through the acquisition of large industrial fishing vessels fish processing and value-added plants, fishing harbours, marketing and distribution channels, as well as provided employment to thousands of workers. Most of their activities are centred on fishing areas beyond the fishing grounds of small-scale fisheries and also most of their production is aimed at both the local market as well as the export market.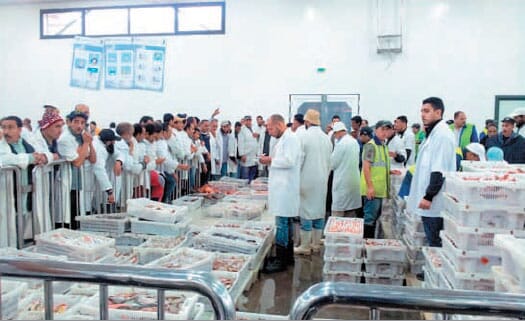 Fish Auction in a Moroccan fish Market
Arab States with important fisheries sectors have also established national bodies to support the sector such as through export promotion services, research institutions and training. A good example of government support is demonstrated by Oman which prepared a very comprehensive "Atlas of suitable Sites for Aquaculture Projects in the Sultanate of Oman". The Atlas is being offered to potential investors and some projects are already underway. Some governments also established sections in their national universities and colleges to cater in one way or another for oceanographic and the fisheries studies as well as organizing and holding national, regional and international symposiums, conferences and other related activities.
Inter-Arab investment support
In the Arab states, collectively either under the Arab League or on a national basis especially those states that are economically advantaged, established several economic development funds to provide funds in support of economic development in the poorer states. These funds provided financial support to several fisheries activities over the years and helped in raising the standards of many fisheries projects by providing training, funding of infrastructure facilities, research and development, etc.
In addition, the Arab League established the Arab Organization for Agricultural Development (AOAD) was established for fostering the development and promotion of research and studies in the sector etc. The League also established the Arab Fishing Company (AFC) which established several fishing projects in some Arab countries as well as the Arab Fisheries Investment Company (AFIC) was also set up as a promoter of investment in fisheries activities. Also several national and regional funds where established to support economic development in Arab/African countries. Also the Islamic Cooperation Organization established the Islamic Development Fund (IDF) to provide economic and technical support to Islamic countries.
Investment support by international aid agencies:
International development agencies and donors extended over the years fisheries financial, technical and logistical support to many fisheries development projects in the Arab States especially in development of the traditional; small-scale fisheries. These agencies in addition to providing funds, they also provided expertise, conducted research studies, stock assessments surveys, national and regional projects with government participation as well as with Nongovernmental Organizations (NGOs). They also provided administrative and legal support to improve the fisheries governance, training through fellowships, conferences, seminars and technical workshops on various topics covering immediate and prolonged needs. For example, FAO supported the establishment of national sub-regional and regional fisheries development projects and fisheries bodies to serve the fisheries sector in the Arab region. INFOSAMAK, the Regional Fisheries Commission (RECOFI) and the General Fisheries Commission for the Mediterranean (GFCM) are some of these projects.
Challenges to be met
In order to be able to attract investments several challenges have to be met. These challenges, if responsibly and rationally met, could improve and develop the sector throughjoint ventures in capture fisheries or aquaculture. The challenges include: better management of sustainable fisheries resources; developing responsible aquaculture; research and development of new untapped resources benefitting from the EEZ; re-stocking waters; preventing foreign fleets illegally fishing in Arab waters; establishing more Arab joint ventures in fisheries related projects; better utilization and processing of landings to reduce waste; facilitating and promoting more intra-regional fish trade; exporting locally unpopular high value fish products and importing affordable popular species; revising and up-dating available fisheries legislation to meet internationally adopted instruments and activate enforcement of provisions of laws. Meeting these challenges would certainly contribute to increased domestic production.
October 2013