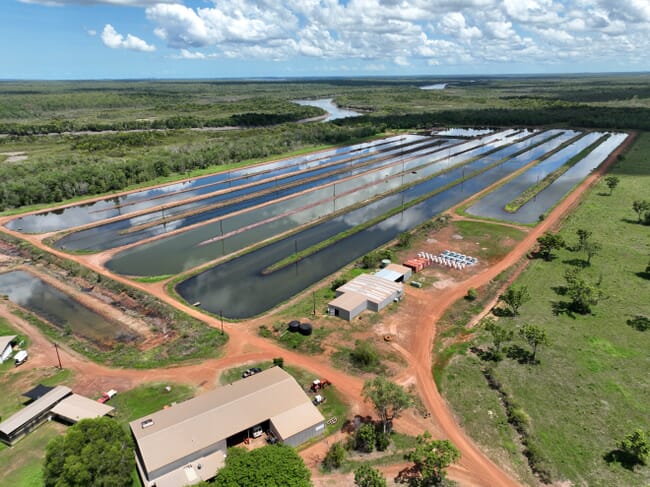 CSIRO is leading innovative new research in Darwin to help develop a sustainable prawn farming industry in the warm waters of Northern Australia's Top End, a region encompassing the northernmost section of the Northern Territory. If successful it could lead to prawns being grown all the way across the top of the country from the north of Western Australia to the top of north Queensland.
Commercial attempts to farm prawns in Australia's Northern Territory have been tried but haven't been successful to date. Cyclones, rain, hungry birds, and the tyranny of distance make it a difficult area for prawn farming businesses to establish and thrive.
Demonstrating success in the Top End
According to CSIRO project leader Simon Irvin the first step was setting up a demonstration site in Darwin, and early results have now put hard numbers to what were previously understood challenges.
"Pond netting is the gold standard for protecting prawns from bird predation. Our tests have shown only six percent survival rates in ponds without netting, and 68 percent with netting," Irvin said in a press release. "However, netting is expensive to install, and in the Top End nets can be easily torn apart and damaged by cyclones. So now we're going to take the next step and investigate using lasers and drones to deter birds and negate the need for netting."
Prawns also love salty water. But the northern monsoon can deposit large amounts of rain, effectively turning salt water into fresh water in prawn ponds. The CSIRO team is looking at ways to guard against this, as well as stopping competition from wild prawns that are abundant in the natural environment.
One of CSIRO's key goals is also to reduce operating costs and improve sustainability by requiring less feed for the prawns and other inputs.
Can extensive prawn farming work in Australia?
In Australia, most farmed prawns are currently grown in intensive farming systems. This means they have high stocking rates, with about 25-50 prawns per square metre.
However, extensive prawn farming systems stock much lower numbers of prawns – usually less than five per square metre. While extensive prawn farming hasn't yet been tried widely in Australia, there is an established and successful extensive prawn farming industry in Vietnam.
"Given the similar climates of Vietnam and Australia, we are trialling whether or not this low-input farming would be commercially viable in Australia," Irvin added. "However, we expect that working in Northern Australia will throw up some new challenges."
The benefit of the extensive prawn farming system is that it requires no or only small amounts of additional feed. The prawns rely on getting most of their nutrients from microorganisms growing in the pond itself.
Without this ongoing overhead, extensive farming systems have much lower running costs and are more sustainable in the long term. If the need for netting could also be removed, this would really flip the economics on its head.
Early results from the first season at the Darwin demonstration site have been promising, with a successful prawn harvest despite the identified challenges the area presents. The next big step will be to apply the findings to a real-world commercial prawn farm.
Building a pilot site in the north
CSIRO have been working with Indigenous organisation Tiwi Resources – which represents the eight clan groups of the Tiwi Islands – to identify a suitable location for a new extensive prawn farm pilot site in this group of islands off the coast of Darwin. The pilot farm is planned to be located at Wurankuwu, Bathurst Island.
Ron Poantumilui, a senior leader of the Wurankuwu People, can see real potential for the positive impacts in developing aquaculture on the various groups of the Tiwi Islands: "The vision is a five-year plan to develop a pilot site. If successful it will benefit our people by building economic opportunities, and that vision can go on to the next generation."
According to CSIRO, initially the goal would be to build six one-hectare ponds. This could lead to further expansion if the project demonstrates the viability of extensive prawn farming in northern Australian waters. Additional prawn farms could then be built around the concept in different locations across the Top End.
"The establishment of a co-led pilot prawn farm on the Tiwi Islands would unlock a huge opportunity for communities in northern Australia and provide the country with some of the highest quality prawns available," concluded Irvin.