PondDtox® will sink to the pond's bottom, and readily convert H2S back to sulfate again, while inhibiting the sulfate reducers. This ultimately mitigates the toxic environment ensuring maximum pond productivity.
---
* Signs of Hydrogen Sulfide Toxicity
By the time farmers notice the tell tale black
sludge and 'rotten egg' smell of H2S, the impact on productivity will already be occurring. Continued exposure to H2S in ponds causes reduced productivity in the form of increased mortality, reduced growth, and decreased feed conversion efficiency.
---
Case Study - Baitfish Farm Suffering from "Disappearing Shiner Syndrome"
Introduction
Hydrogen sulfide (H2S) can be generated in aquaculture ponds through the decomposition of organic material, most commonly uneaten feed, dead vegetation, microalgae, and cyanobacteria. At water temperatures between 70 and 74°F, H2S has been shown to be particularly toxic to the golden shiner, Notemigonus crysoleucas (LC50=0.5 ppm H2S).
In the baitfish aquaculture industry of the southern US, individual pond mortality attributable to H2S toxicity can reach 100%. The aim of the presented study is to assess the efficacy of a commercially
available microbial product, PondDtox®, in mitigating lethal H2S concentrations at a commercial baitfish farm in central Arkansas.
Materials and Methods
PondDtox®, a dry preparation of Paracoccus pantotrophus, was added at weekly intervals to ponds at 200g / acre. Similar ponds were left untreated, acting as a control group for the study.
Applications commenced on 22 April 2013 and continued for 8 weeks.
Study ponds ranged in size between 10 acres and 20 acres.
pHtemp101 system probes (MadgeTech, Warner, NH) were used to continuously log temperature, and pH starting one week before PondDtox® applications, and continued for 12 weeks, ending 4 weeks after dosing ceased.
Water samples were collected every three days from ponds to measure H2S.
Harvest data was analyzed to demonstrate whether a reduction in H2S levels resulted in a noticeable difference in golden shiner harvest (survival).
Results
Hydrogen Sulfide levels (figure 1.)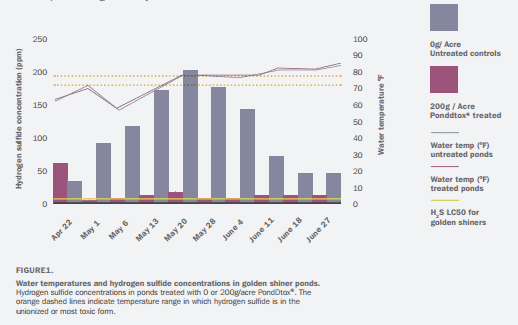 When data logging commenced, all treatment groups were above the H2S LC50 (toxic levels for golden shiner)
Within one week of initial application of PondDtox® treated ponds dropped below the H2S LC50 and remained low throughout the remainder of the study
Untreated ponds never dropped below the H2S LC50 at any point during the study
Harvest Data (figure 2.)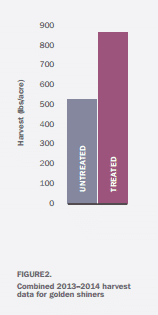 At harvest point treated ponds demonstrated an increase of 293.9lbs per acre over untreated ponds, an increase of 56.4%
Conclusions
This study confirms PondDtox® mitigates toxic H2S in golden shiner ponds, and in doing so improves yield per acre under commercial farm conditions.
For more on PondDtox please visit: http://ponddtox.com/
April 2015