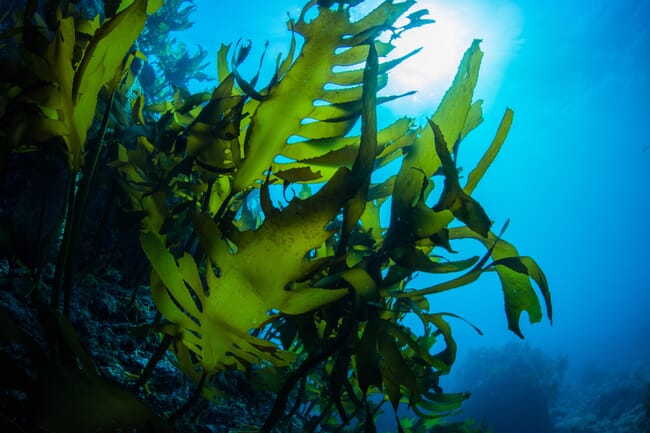 A joint project involving Kelp Blue, Climate Investor Two (CI2) and the Namibia Infrastructure Development and Investment Fund (NIDIF), the funding will cover the initial five-year phase, and will come from both international and local Namibian sources through CI2 and NIDIF, pending investment approvals, while Kelp Blue will seek the necessary Namibian regulatory approvals and will liaise closely with local authorities.
Kelp is a fast-growing seaweed and has the ability to sequester more CO2 than terrestrial forests, while boosting marine biodiversity and improving fish stocks and generating additional ecological benefits, including counteracting ocean acidification and de-oxygenation. The farmed seaweed will be harvested to produce alternative agri-food, bio-stimulant and textile products.
Kelp Blue's business model aims to add value across the entire kelp value-chain. The introduction of offshore engineering innovations and novel processing technologies will reduce overheads and increase scalable process efficiencies. Economic development will be promoted through the creation of value-added products in Namibia for local consumption and export, said the company in a press release.
Kelp Blue will also create employment opportunities in coastal communities and contribute to economic growth in outlying areas. Kelp Blue is directly aligned with the goals of the CI2 facility as it offers a viable alternative to existing water and waste management practices and current approaches to ocean system management. It is also aligned to Eos Capital (who are managing the NIDI fund) and NIDIF's shared mission of contributing to the growth of the Namibian economy.
"We are proud to partner with Kelp Blue in its efforts to accelerate marine biodiversity resilience. As one of the early investments under the CI2 financing facility, this partnership speaks to our commitment to supporting the health and productivity of our blue planet. Kelp Blue has the potential to improve aquatic biodiversity, contribute to effective fisheries management and provide alternative revenue streams for coastal economies," commented Andrew Johnstone, CEO of Climate Fund Managers.
"We are committed to working with Kelp Blue to address the effects of climate change on marine and coastal resources, and build up the integrated marine resource management capacity of local decision makers and regulatory authorities," he added.
Nicole Maske, managing partner of Eos Capital, said: "In addition to the positive impact on our ocean and our local fish stocks, this is an exciting opportunity to add to the infrastructure and growth of Lüderitz, thereby enhancing prospects for the local community, and to secure inward investment into Namibia on an environmentally responsible basis."
"We look forward to repaying the confidence that Climate Fund Managers and Eos Capital have placed in us by ensuring the success of this project, creating meaningful employment opportunities in Namibia and making a valuable contribution to the integrity and viability of ocean ecosystems,", commented Daniel Hooft, founder of Kelp Blue.