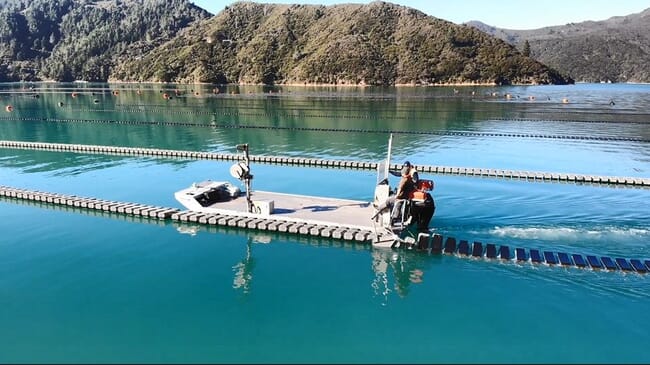 Presenting his company's technology at the Global Seafood Alliance's GOAL 2021 virtual event on 17 November, FlipFarm managing director, Aaron Pannell, won over attendees by illustrating how much this system — in which Hexcyl Pro baskets are connected to a backbone that rolls up on the side of a harvesting vessel — saves on the back-breaking labour associated with oyster aquaculture.
"FlipFarm Systems is honoured to win," said Pannell. "Considering the extremely high calibre of the finalists, we feel very privileged to win this award on behalf of our hard-working team. Debbie [Pannell's wife] and I would like to recognise the many people who have been involved in developing and implementing the FlipFarm system. We look forward to continuing our mission to deliver world-class aquaculture solutions to the most sustainable and exciting industry in the world!"
The innovative process helps provide an ideal environment for oyster growth and conditioning, as well as the ability to efficiently control fouling levels, pests and predators. The system is adaptable to diverse growing environments and is now used by more than 70 farmers in 12 countries worldwide.
FlipFarm beat two other finalists: Ace Aquatec, with its seal-deterrent technology that causes no harm to the marine mammals, and Nucleic Sensing Systems, which has developed a tracker that can detect pathogens and other biological issues in aquaculture environments. The finalists were selected from a pool of 39 applicants from 24 countries. The winner was selected by attendee vote.