Feeds and the procurement and usage of raw materials for feeding are vital to the success and sustainability of Pangasius aquaculture. But aquaculture in general can be viewed in a negative light when it comes to the issue of feed due to concerns for and perceptions of sustainability and the use of physical and biological resources.
The use of feed, feed practices and potential advances in feed manufacturing can also have a significant impact on sustainability.
Nutritional requirements of pangasius
The FAO describes Pangasius as a nutritionally low input species. This means that it can be produced efficiently with little animal protein, fishmeal and fish oil.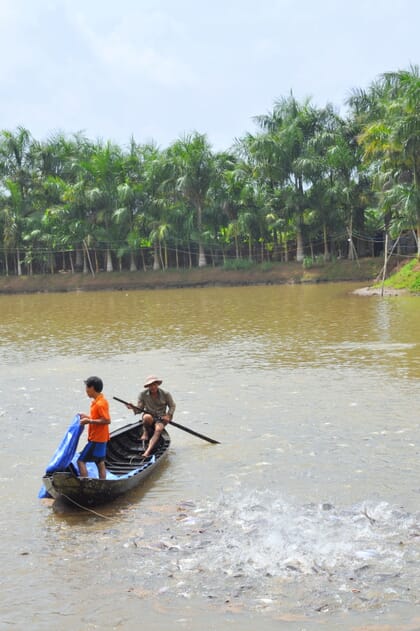 Pangasius is produced using feeds of 28 - 32 percent protein that primarily consist of grain-based materials or derivatives. It can also be produced using homemade feeds or agricultural by-products as well as additional nutrition from natural pond productivity (Pangasius can consume sediments and detritus to gain nutrition from bacteria and other organisms).
The low input diet of Pangasius is also an advantage in terms of reduced feed costs and results in lower production costs and a more environmentally friendly product.
According to statistics from the FAO, feed accounts for 70 - 90 percent of total production costs so for farmers, selecting the appropriate product is of primary concern.
Overview of feed
Pellets (round or cylindrical) are used to feed fingerling fish and juveniles. Ingredients are finely ground before being formed into pellets, after which the pellets are crushed into fine particles.
The most common source of animal protein is fishmeal because it contains a sufficient quantity of all the amino acids necessary to meet nutritional requirements.
Alternative animal protein sources are meat and bone meal and poultry by-products, while soybean, maize and cottonseed are primary plant protein sources.
Pangasius feed
Pangasius feed has developed greatly over the years. One example is industrial feed that can reduce fish diseases and environmental pollution by feed residuals, but industrial feed is more expensive than other alternatives such as homemade feed.
In addition, young fish cannot feed well on homemade feed so industrial feed is often used during the first two months of the grow-out culture system. When the market price for fish drops, farmers tend to apply both industrial and homemade feed.
Homemade feed
This consists of two ingredients, rice bran and trash fish in different ratios to provide good protein content during periods of growth. Farmers have also begun using alternative protein sources such as soybean meal, corn, dried fish, meat bone meal and poultry.
Farmers also mix rice bran, trash fish and other ingredients, cook the mixture and use an extruder to create a sticky and long string feed.
Feed additives are also included as they enhance feed quality, fish health and fish growth. Examples of feed additives are vitamin C, lysine, anti-oxidants, probiotics, vitamins and a mineral premix.
Homemade fresh feed is made from materials such as rice, fishmeal and soybean. These are finely ground, mixed together, cooked and cooled before being made into small handfuls or pressed into pellets.
Commercial pelleted feed
This feed is dried and pelleted by industrial processing lines. Since 2008 there has been an increasing trend towards the use of commercial pellets that contain rice bran, maize and fishmeal.

Although they are more expensive, they result in better feed conversion ratios and water quality, and are designed to float to avoid any build up of food in cages or at the bottom of ponds.
Some farms use commercial pellets throughout the on-growing process, and others only in the first and last month while the fish are given farm-made food.

FCR (food conversion ratio) and feeding practices
According to the FAO, the feed conversion ration (FCR) of Pangasius that are fed commercial pellets is around 1.7-19:1. Pangasius feeding is divided into two stages. The first tends to use feed with high amounts of protein and minerals so the fish gain maximum length.
In the second stage, the carbohydrate concentration of homemade feed is usually increased to fatten the fish, make them heavier and thus result in higher production.
Improvements in feed can significantly contribute to increases in growth rate, fish survival and a shortening of the culture cycle.
For the further development of the Pangasius feed industry, to improve sustainability and reduce feed costs, there is a need for more laboratory studies and the development of fishmeal-free diets as well as a global approach to the issue of guaranteeing sustainable feed.
Read more of The Fish Site's series on pangasius farming here.