Established in December 2018 and based in Kumasi, Ghana, the Trimark Aquaculture Centre has already recorded two notable successes. They won the $100,000 prize at the UK Aid-funded Sanitation Challenge Awards 2019 in Accra in July, and they have provided a model for dealing with water and sanitation challenges in Ghana and other African countries.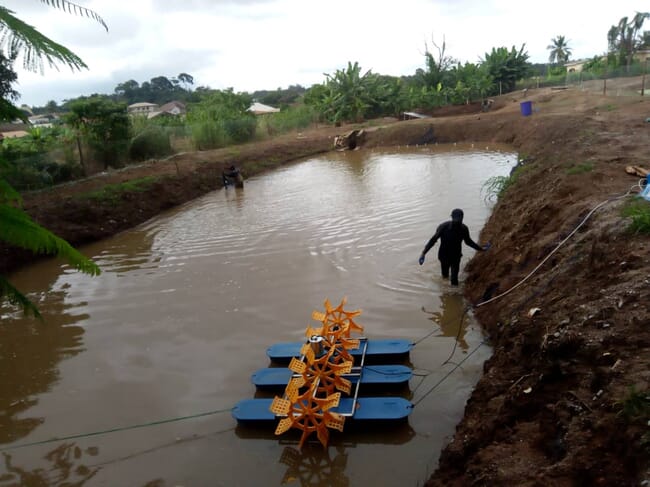 The award was in recognition for the centre's innovative partnership with the Kumasi Metropolitan Authority, in which the Trimark team redesigned the wastewater treatment plant for the city's Chirapatre Estate, and used the nutrients in the production of catfish.
Mark Yeboah-Agyemang, CEO of Trimark, says the challenge in the Chirapatre community of 1,500 residents illustrates the problem in many African countries.
"The bulk of wastewater in Ghana and Africa is discharged into the environment, creating a major nuisance," he says. "And due to our belief in Africa that food coming from waste sources is unwholesome, we have ignored this valuable resource for a long time. We decided to do something about this. Basically, we reuse this waste water to produce catfish. The results have been very encouraging, and we are determined to see this system replicated across Africa."
What Trimark found at the Chirapatre Estate was a network of sewer lines that terminated in a community waste-stabilisation pond, which received 30m3 residential wastewater for treatment each day. Due to inadequate funds, maintenance of the facility had been neglected, creating serious environmental and other problems. With the installation of the fish farm, revenues from fish sales provide funding for maintaining the system.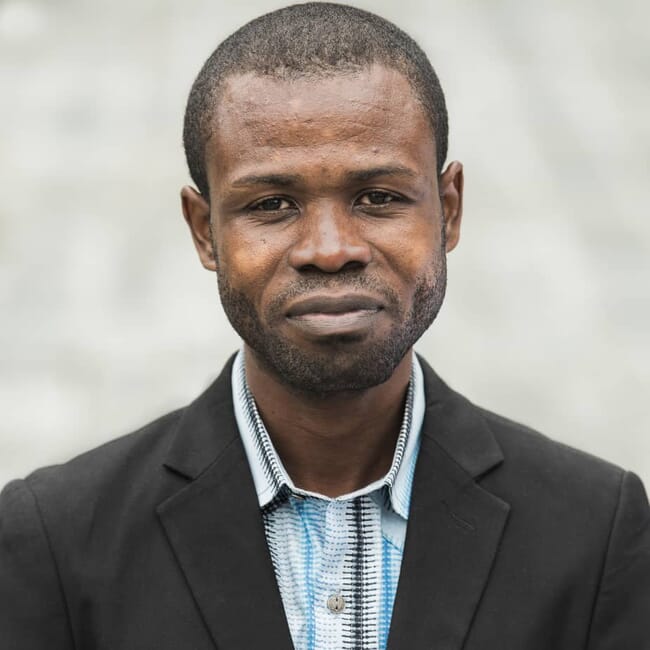 Yeboah-Agyemang says that "quite a number of waste treatment plants are broken down due to lack of funding. By creating the aquaculture model, we have provided a reliable source of funding. And with aquaculture, especially catfish farming, we couldn't have chosen a better vehicle. Ghanaians have loved their smoked catfish for ages, and in recent times people in the urban areas have also taken to the larger sizes."
Wastewater aquaculture is widely practised in Asia, where the bulk of the world's farmed fish is produced, but it is not known in Africa. Yeboah-Agyemang says that the adoption of this practice in Africa will release substantial amounts of water for fish cultivation.
"The deployment of wastewater in aquaculture will make a big difference in our output. Ghana is a major fish consuming nation, with a per capita consumption of over 23kg. Unfortunately we are also a major fish importing nation, producing only 40 percent of our needs. Wastewater aquaculture can make a huge difference, especially when you consider the fact that a considerable amount of the wastewater includes nutrient favourable for fish consumption, which translates into substantial production costs. All this will be done whilst reversing serious environmental problems."
Yeboa-Agyemang also says that the project offers a major opportunity for metropolitan and district assemblies to become financially stable. "Local assemblies face some daunting financial challenges, and I am confident that the catfish programme offers them an opportunity to earn substantial revenues to finance important projects. And if the local assemblies get involved, I believe that fish farming will be popularised across the nation".
Another Ghanaian company, SkyFox, is in the process of developing a system for deploying urban wastewater in aquaculture. The company, which is operating in five West African countries (Burkina Faso, Sierra Leone, Liberia, Guinea and Ghana) is a major exponent of water maximisation in agriculture. Patrick Apoya, CEO, believes that a substantial amount of the water used in African agriculture is wasted, and his company is working to address that challenge. SkyFox is practising "treetop aquaculture", with fish tanks mounted on hilly lands or elevations, and the wastewater is used to irrigate crops. Apoya says that the wastewater used in farming produces at least 30 percent higher yield, and the company is keen to see this introduced widely in Africa.
By the end of 2020, SkyFox expects to deploy its "urban aquaculture" system, which will channel water from the water supply system into fish farming. "African populations are becoming increasingly urbanised," says Apoya. "A lot of water is being used in the urban areas. We want to tap the wastewater [and put it] to profitable use. Fish farming is, of course, among the most profitable enterprises today. We hope to make it possible for urban dwellers to grow fish in tanks close to their homes, using the wastewater that would have otherwise gone to create environmental problems.
"In addition to contributing towards solving our fish supply deficit in Ghana, we will also create jobs. Aquaculture can support up to a million jobs in Ghana but currently it employs only about 20,000 people. We will also be working with the authorities in other African countries to deploy similar systems."
SkyFox is currently in partnership with the Ghana Water Company, providing a self-billing system that is being deployed across Ghana, potentially removing the need for electricity bills and bill distributors.