With pancreas disease remaining a significant threat to productivity the manufacturers MSD Animal Health believe that this demonstrates an increasing confidence in the efficacy of the vaccine, first launched in 2009.
Further validation of successful vaccination is provided by confirmation that where salmon have been proven to have been exposed to PD virus there is a clear reduction or no observable signs of clinical disease following vaccination with Compact PD. The levels of recorded mortality are notably reduced and salmon are achieving target growth rates. Where the company has monitored vaccinated fish this protection has been demonstrated right through to point of harvest.
This feedback is all the more positive as many of the earlier vaccination programmes were established with operations that had a history of pancreas disease and were judged to be at high risk of future infection.
MSD has invested considerable resources in supporting salmon farmers with vaccination programmes. 'PD Monitor', which is available to all farms using Compact PD provides a comprehensive framework for producers to prepare, administer and monitor vaccination throughout the production cycle.
The four key stages of PD Monitor are:
1. Site assessment
In order to implement a successful vaccination programme the site and grow on facilities are assessed to understand the current and potential threat of PD. Parameters reviewed include the historic instances of PD. In addition the known occurrence of disease on nearby sites is factored in.
2. Vaccine handling and pre-vaccination routines
As a standard requirement the company advises all customers on the appropriate and safe use of all vaccines. PD Monitor takes this further by looking at all the critical handling routines prior to vaccination. The priority is to ensure that the vaccine has been stored and handled correctly right up to the point of vaccination.
3. Vaccination
The MSD Animal Health technical team is highly experienced in working with producers and vaccination teams. The objective through PD Monitor is to share technical knowledge and to develop a 'best practice' approach. Further input is provided to develop skills throughout the site team so that optimal results are achieved through the vaccination.
4. Monitoring and Feed back
In addition to the individual farm's vaccination records and audits, PD Monitor allows for the detailed sampling of blood and tissue to confirm whether or not fish have been exposed to salmonid alphavirus during the grow on phase. The feedback from the results provides the necessary information with which to plan subsequent PD control programmes. Where appropriate a strategy is implemented to adapt the vaccination routine in order to maintain successful protection and help ensure healthy and profitable salmon production.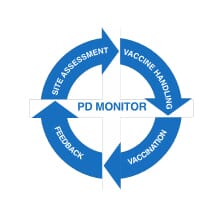 The company has also confirmed that a new online PD impact assessment model will be available shortly. From entering a small amount of current site information and adding the cost of vaccination the model provides a quick and simple 'return on investment' calculation.
UK salmon producers who would like to discuss the benefits of a Compact PD programme and PD Monitor should contact the company on 03700 6033804.