Nutriad Supports Aquaculture India
INDIA - Aqua India 2016, a bi-annual event organized by the Indian Society of Aquaculture Professionals (SAP), was held this year in Vishakhapatnam, Andhra Pradesh - January 29-30. Nutriad showed its commitment to the Indian Aquaculture Industry through a Gold Sponsorship for the event. The conference focused on the theme of Indian Aquaculture: Assuming Responsibilities & Adapting to Changes.
"Seafood exports from India have increased fivefold in the last 15 years reaching 6.5 billion USD, converting India into the fourth global seafood exporter, "said Ms. Leena Nair, chairman of Marine Products Export Development Authority (MPEDA). 67% of the export value is shrimp of which 77% is farmed. Increased production costs and diseases are likely to slow Indian's shrimp production in 2016.
"A more than 10% production decline due to flooding and disease outbreaks was already seen in 2015. A recovery is likely to be marginal due to lower returns from farming," stated S. Muthukaruppan, president of SAP.
"White spot virus (WSSV) continues to be the predominant threat to farmed shrimp in India, but new diseases are increasingly important too," according to Dr. Shankar Alavandi, principal scientist at CIBA. Surveillance programs have revealed new diseases such as the running mortality syndrome (RMS), white faeces syndrome, and Enterocytozoon hepatopenaei, a microsporidian causing slow growth and bad feed conversions. India still has an enormous potential to expand production of Penaeus vannamei into new farming areas in the states of West Bengal, Odisha and Gujarat.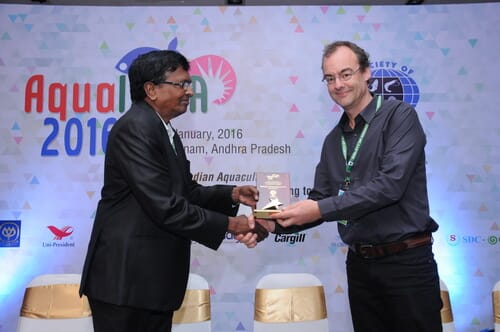 Dr. Peter Coutteau receiving the gold sponsor award for Nutriad at Aqua India 2016 from Dr. P. Ravachandran, Member Secretary of the Coastal Aquaculture Authority.
During the interactive sessions at Aqua India, participants expressed the need for increasing capacity of quarantine and broodstock multiplication centers, enhanced bio-security measures to avoid spreading new diseases, genetic programs, and new technologies to control microbial development in pond systems including probiotics and specific functional feeds.
Upon receiving the gold sponsorship award Dr. Peter Coutteau, Nutriad BU Manager Aquaculture stated: "Nutriad has been working alongside producers in India for many years. Together with them we develop concept that address the current and future challenges of the industry."
Nutriad delivers products and services to over 80 countries through a network of own sales offices and distributors. Supported by 4 application laboratories and 5 manufacturing facilities on 3 continents. Find out more.