Nutriad at VietShrimp in Vietnam
VIETNAM - VietShrimp International was successfully held in Bac Lieu (Vietnam) from June 24-26. The theme was Converge to develop Vietnam Shrimp Industry. VietShrimp hosted 120 exposition booths and attracted more than 5,000 visitors.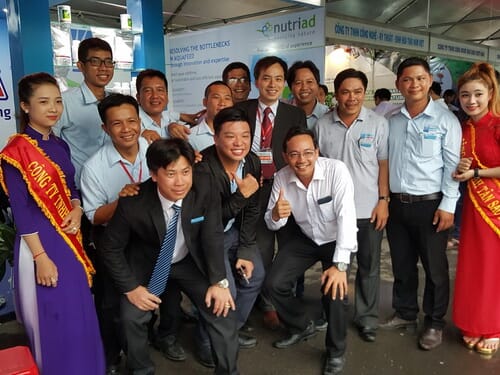 Five scientific aqua seminars were organized with more than 1,500 delegates. Nutriad was one of the international exhibitors at VietShrimp.
Allen Wu, Nutriad's Regional Aquaculture manager Asia Pacific, was invited to be the session chair and also presented a nutritional topic entitled "Improving Hepatopancreas Conditions of Shrimp thru Modulating Lipid Vacuolization." This session attracted attention from Vietnamese customers keen to learn about the importance of lipid reserves in the hepatopancreas to restore shrimp from disease impact.
Participants also showed great interest in the results from Nutriad's commercial shrimp trials, showing better survival and FCR in Saudi Arabia and Mexico. Ho Gim Chong, Technical & Sales Manager SE Asia actively shared hands-on farm experiences on the use of the health additives for shrimp with Vietnamese customers.
Mr Wu said: "The Asian market is of strategic importance in the growth strategy for Nutriad. We have consistently invested in people, supply chain and research to help producers with their day to day challenges. Combining farm experience with scientific knowledge and having access to a global network allows us to be a real solution provider."
Nutriad delivers products and services to over 80 countries through a network of own sales offices and distributors. Supported by 4 application laboratories and 5 manufacturing facilities on 3 continents. Find out more at www.nutriad.com