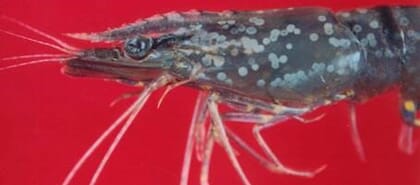 The peptide-based diagnostic tool has been developed by scientists of Agharkar Research Institute (ARI), an autonomous institute of India's Department of Science and Technology (DST). According to a press release from India's Press Information Bureau, it was granted a patent on 31 March 2022 as an alternative biorecognition element.
WSSV infections in vannamei shrimp results in huge losses of shrimp around the world each year. Technologies for early and rapid detection of pathogens in the field should help to prevent losses.
ARI scientists Dr Prabir Kulabhusan, Dr Jyutika Rajwade and Dr Kishore Paknikar developed the lateral flow assay using gold nanoparticles for easy visualization of the results. Instead of using poly-/mono-clonal antibodies in assay development, the ARI scientists selected twelve amino acid containing peptides from a phage display library by biopanning.
According to ARI this is "a time- and cost-saving approach, eliminating the need for immunization of laboratory animals to obtain the antisera. With the use of peptides, cold-chain requirements for storage are reduced and the assay becomes production friendly".
"Our data indicates high specificity (100 percent) and sensitivity (96.77 percent) of the assay, early detection from haemolymph, highly reproducible results with a time-to-result of only 20 minutes," said Dr Jyutika Rajwade.
ARI PhD student Ms Snehal Jamalpure-Lakka now aims to take this work further for commercialisation.