Of the seven companies ranked as "low risk" in the Coller FAIRR index of the world's most sustainable protein producers for various parameters linked to sustainability, three are Norwegian aquaculture companies. Thai Union joins them in seventh place.

On the list of the 60 largest, publicly listed protein producers globally, Mowi, the world's largest salmon farmer, continued to hold on to the top spot, with Grieg Seafood bagging second place and Lerøy Seafood in fourth.
"Norwegian aquaculture continues to lead the way for protein producers across the world, and it is a great source of pride for the industry to see that their hard work is being recognized," said Renate Larsen, CEO of the Norwegian Seafood Council, in a press release, following the publication.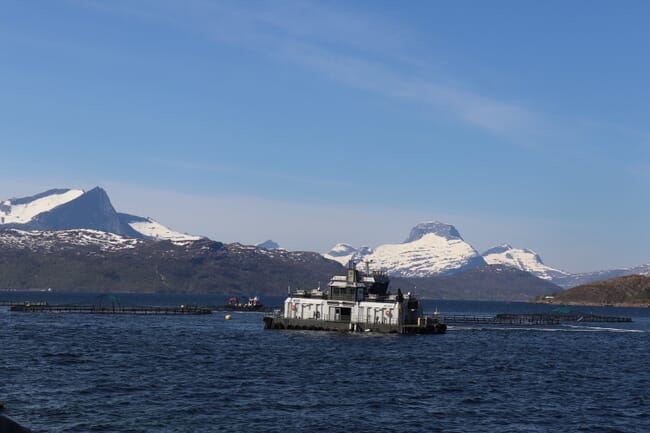 Larsen believes it is no coincidence Norwegian salmon farming continues to outperform other protein production in the global ranking.

"Being responsible, transparent and innovative is part of the Norwegian seafood industry's core values. As the largest producer of the world's favourite seafood – the salmon – we have important responsibilities we take very seriously. A responsibility not only towards consumers who enjoy our delicious and healthy premium quality fish, but also to the communities and the environment in which the companies operate," she said.
The Coller FAIRR index is an annual assessment of global protein producers on how they perform according to parameters such as greenhouse gas emissions, deforestation and biodiversity, water use and scarcity, waste and pollution, antibiotics, animal welfare, working conditions, food safety, governance and sustainable proteins.
Although Norwegian aquaculture companies perform well across the board, they are particularly commended in the areas of antibiotics use and working conditions.
Catarina Martins, chief sustainability officer at Mowi, said: "I am delighted to see Mowi's sustainability strategy and achievements being recognized in this global rating. For three years in a row, Mowi is considered the most sustainable animal protein producer in the world. This achievement is the result of the hard work and passion for what we do every day: producing food that is good for the people and the planet."
Andreas Kvame, CEO of Grieg Seafood ASA, said: "During the next decades, the global food system must be transformed. We know that responsible aquaculture and blue foods has the potential to be a part of the solution. In Grieg Seafood, we work hard to reduce our impact and improve fish welfare. I am pleased that the efforts of my fantastic colleagues across the company have given us a top placement in the FAIRR Index this year. Going forward, we will continue on our journey of improvement, utilizing innovation, new technologies and new knowledge."