Sponsor message
Are you trying to break into aquaculture industry or already working in the field and looking to gain additional expertise for career development?
NORGHATI: Developing Sustainable Aquaculture in Ghana
ANALYSIS - Ghanas economy and communities rely heavily on aquaculture, however the sustainable growth of the industry is hindered by poor quality fingerlings, expensive feed and a lack of technology and knowledge. The Norway Ghana Tilapia Initiative (NORGHATI) proposes to help bridge this gap and create a more sustainable and successful future for Ghanas aquaculture sector, writes Lucy Towers, TheFishSite Editor.
Set up by the Norwegian Veterinary Institute, MoreFish AS and Nofima, NORGHATI proposes to transfer Norway's aquaculture knowledge and technology to Ghana where it can be used to improve the health and productivity of the country's aquaculture industry, with a focus on tilapia, as 80 per cent of the industry in Ghana is based on the farming of the locally improved Akosombo strain.
The project also stems from the cooperation between Ghanaian aquaculture company, Simma Ltd, and MoreFish, a Norwegian aquaculture technology supplier.
By working together to develop and progress Ghana's aquaculture, the project aims to help the country become self-sufficient in fish production and for the sector to be economically and commercially viable.
With the support of a variety of Norwegian and Ghanaian companies/organisations, the flagship project also hopes to showcase Norwegian aquaculture technology in Africa.
Aquaculture is hugely important in Ghana for food security and the economy as the sector currently employs 375,000 people, 150,000 of which are women, and the country consumes around 25 kilos of fish per capital per year.
Ghana's annual tilapia production is currently under 40,000 tonnes but the government's aim is to produce over 100,000 by 2016. However, this target will not be met unless improvements in education, feed and fingerlings are made, said the Norwegian Veterinary Institute's Dr Kofitsyo Cudjoe, leader of the NORGHATI consortium.
Although aquaculture is very important in Ghana, Halvor Kittelsen, MoreFish CTO, explained that the growth and productivity of Ghana's aquaculture industry is currently hindered by a shortage of good quality fingerlings, a shortage of affordable and/or good quality formulated feed, a lack of regulations and enforcement, lack of educated labour and a lack of applied science.
Farmers will also need to shift from competition to cooperation if the sector is to have a sustainable future, he explained.
Despite the challenges, Ghana does have potential for a successful aquaculture sector due to its strong demand for fish, good economic and market aspects and large water resources.
The NORGHATI project will therefore apply ideas and technology from the Norwegian model, which is viewed as being key to Norway's success, but will adjust them so that they are relevant and adapted to Ghana's specific environmental and social needs, explained Dr Cudjoe.
Mr Kittelsen reiterated this point, saying that technology needs to be developed specially for Ghana.
Addressing the Challenges
One of the most critical focuses of the NORGHATI project will be knowledge transfer and training/education so that farmers learn how to boost production and the importance of fish health and biosecurity.
Mr Kittelsen explained that farmers will require very practical training on aquaculture techniques that are relevant to the people, place and environment.
Intensive training will be given to those involved in the oversight of practical activities on the farm on selection and breeding, nutrition, diagnosis, management, fish health and technology. Safety courses will also be undertaken to improve the safety of workers on the farm.
There will also be a Tilapia Academy, run by a Ghanaian private investor, which will deliver training on Recirculating Aquaculture System (RAS) hatchery and cage production.
The quality and cost of feed is another area in which the project hopes to make improvements.
Feed is very expensive as there is only one active big feed mill located in Ghana owned by an Israeli, so feed is not very accessible, said Dr Cudjoe.
The quality of fingerlings is another area which is holding the aquaculture industry back and which the project hopes to change through the mass production of seed and fingerlings which are genetically improved, disease free and well nourished, at the Aquaculture Research and Development Centre (ARDEC) at Akosombo.
Meeting the need for applied science, Dr Cudjoe explained that as fingerlings/fry are not of a great quality and they often have high mortality rates, NORGHATI will look into why there are high mortalities and will also evaluate local feed ingredient sources so that feeds are developed which are best suited to the fingerlings.
Similarly, the project will also look at developing GIFT tilapia and its feed requirements so that Ghana has a full package.
The lack of regulations and monitoring – which is needed to make sure that regulations are being adhered to – is a challenge which NORGHATI will approach through collaboration with Ghana's Fisheries Commission.
The project therefore hopes to improve sustainable regulation through creating a relevant licensing system, improving environmental monitoring and by strengthening law enforcement.
As well as these main aims, the project will also cover fish health, harvesting systems, grow-out systems and hatchery and breeding.
The NORGHATI proposal is now awaiting the go-ahead from the Norwegian Government under the Government's Fish for Development aid programme.
Once approved, the project will be rolled out in three stages over seven years, delivering the work on large, medium and small scale farms.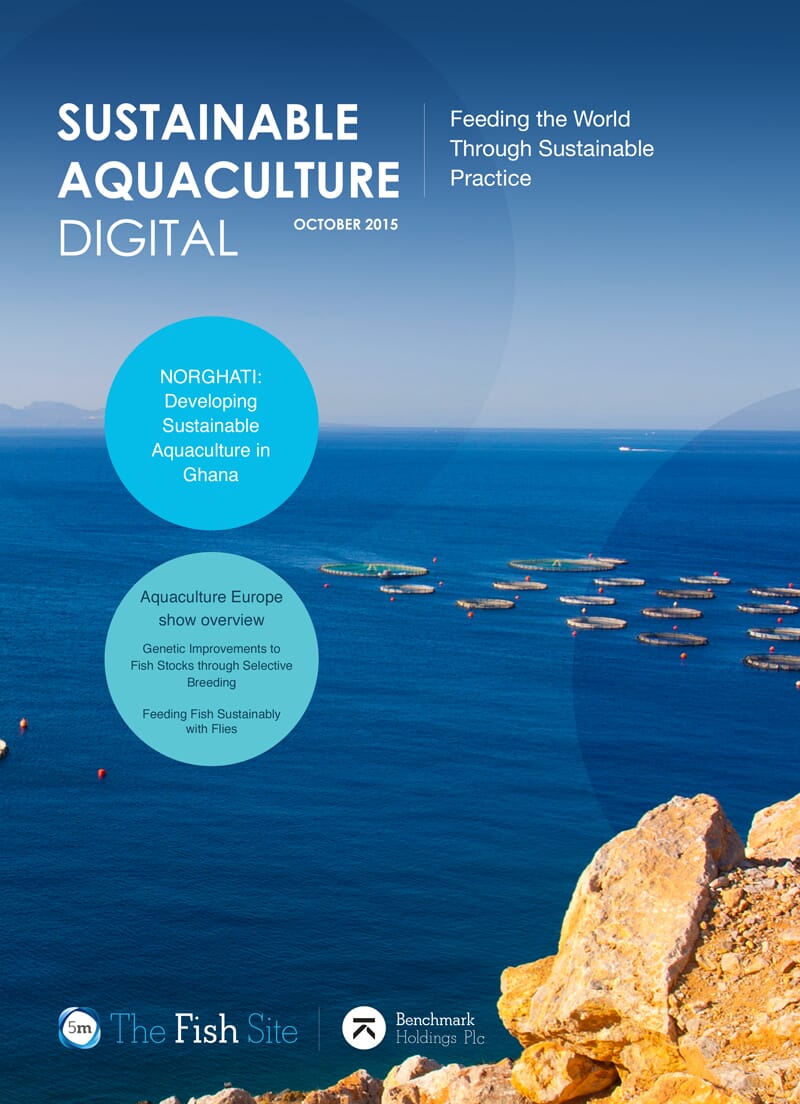 This article was taken from the October 2015 Sustainable Aquaculture Digital. To sign up for the February 2016 edition, please click here.
Sponsor message
UMass Sustainable Aquaculture Online Courses
Aquaculture is an increasingly important source of safe, nutritious, and sustainable seafood for people worldwide. Globally, aquaculture production must double by 2030 to keep pace with demand. These increases in demand for aquaculture products, food security considerations, and job creation have generated an increased need for skilled workers.
Discover how you can be part of this rapidly expanding industry.