New FAO Posters Help Consumers Trace their Fish Catch
GLOBAL - The FAO is helping retailers respond to increasing consumer demand for better information of fish products through the creation of a new set of posters which deliver information on local fishing areas.
Major Fishing Area 37.1, also known as the Western Mediterranean, which covers the Balearic Islands, the Gulf of Lions, and Sardinia, is one of 19 fishing ares to be featured on the posters.
Area 37 is one of 19 Major Fishing Areas displayed on a new set of posters that FAO is making available to retailers around the world who are keen to respond to increasing consumer demand for better information, as well as
The posters also help to evolve labeling standards set by governments. This includes the European Union, which has recently adopted new labeling standards that make it mandatory for all fishmongers to provide information on the fishing method used and the Major Fishing Areas their seafood was caught.
Traceability is important both for food quality and safety, and for sustainability reasons, says Audun Lem, Deputy Director of the Policy and Economics Division in FAO's Fisheries and Aquaculture Department. "It helps to ensure that the seafood we eat is healthy and legal and that fish stocks are maintained for generations to come," according to Mr Lem.
"One of the most positive changes we've seen in the last 20 years is the amount of interest the modern consumer now takes in the food he or she eats," he says, pointing to the milestone FAO Code of Conduct for Responsible Fisheries that is celebrating its 20th anniversary this year.
This means detailed labeling is good for business, too.
At Michelino's fish market and restaurant, some 20 Km outside of the Fiumicino harbor, Italy, customers browse by neatly arranged displays of seafood.
"Seabass, 35 euro per kilo, fishing method: trawling, FAO fishing area 37.1.2," a sign says - a look at the new FAO poster behind the counter shows these particular fish were caught in the Gulf of Lions.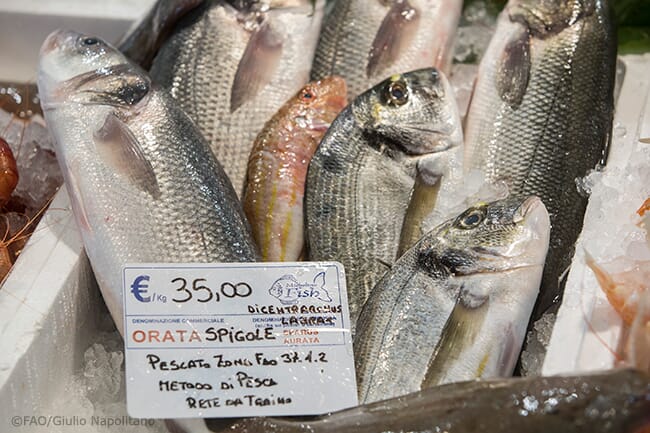 This type of labeling system, which allows consumers to make safe and sustainable choices, has stimulated the consumption of fish products, says Ruggero Urbani, a fisheries consultant with FAO and a fish inspector with the Italian Health Agency.
"Previously, the fish was sold without any indication - and so fears around freshness and fears of one product being sold or passed off as another used to temper consumption," according to Mr Urbani.
Improved labeling systems, in turn, help to build trust in increasingly vocal and informed consumers. And in the age of the internet, those don't let themselves be led by the nose, says Michelino.
"Customers these days inform themselves a little bit about everything, and sometimes they know more than we do - so it's very hard to fool them."
Fish sellers around the world can download the new posters in high resolution format here.