Michael Tait, who was appointed as Chairman at the SSMG annual general meeting, said: "I am looking forward to putting the experience and knowledge I gained in the seafood industry to use for the benefit of the Scottish Shellfish Marketing Group which as a cooperative of farming members has a very exciting future.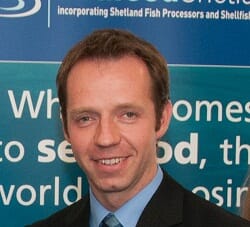 "I am delighted to get this opportunity to carry on the work done so far to build up the business to where we are today so we can keep on delivering benefits to all our members while continuing to deliver the quality and service our customers have come to expect."
Outgoing chairman, Michael Laurenson of Blueshell Mussels Ltd in Shetland, who spent six years in the post, said: "The time was right for a new person to take over at the helm of the UK's largest producer of farmed mussels and oysters. I look forward to continuing to serve the members and working with Michael and the board in my on-going capacity as a director of the business."
SSMG has delivered strong growth in recent years that has been aided by the opening of its new modern processing facility in central Scotland last summer. This has significantly increased production capacity and is enabling the company to further develop its product offering.
Stephen Cameron, Managing Director of SSMG, said: "We are delighted at the appointment of Michael Tait as our new Chairman. His knowledge and experience will prove invaluable as we continue to develop the business."