Trade
EU-27:
The EU is a net importer of fish products. Between 2002 and 2008, the EU's trade deficit grew by roughly a third in volume, from 2.5 million to 3.5 million MT. The EU depends more than ever on imports to meet its fish demand.

The 27 EU Member States imported last year an estimated 8.8 million MT of fish. Spain, France, Germany, Italy, The UK and the Netherlands were the largest importers. Similar to previous year, 5.0 million MT were imports from third countries, the remaining being intra EU trade. Neighboring Norway remains the largest supplier of fish with a market share for 2008 of 10 per cent (of total EU imports, including intra EU). China has become the second largest supplier with exports that more than doubled over the past 5 years. Individual import market shares of other main suppliers like the US, Iceland, Argentina and Thailand have been stable at around 3 per cent. Exports from Vietnam grew enormously from 32,000 MT in 2002 to more than 320,000 MT in 2008, which makes Vietnam the third largest supplier of fish to the EU. The once leading suppliers Russia and the Faroe Islands were not able to benefit from the EU's growing deficit. In terms of value the increase of EU fish imports grew at a much faster pace, due to rising seafood prices. Average import prices grew by 40 per cent over the past 3 years.
The Netherlands:
The Netherlands provides an essential processing and logistics centre for seafood in Europe. It is the EU's 6th largest importer of seafood, importing 0.7 million MT in 2008 of which roughly half originated from outside the EU. Its largest non-EU suppliers are Iceland, Norway, Vietnam and China. The US' exports to the Netherlands totaled almost 21 thousand MT, or 3 per cent of 2008 imports. Exports were dominated by shipments of fish fillets, cod and salmon.
Fish Imports Per Country, 2005 - 2008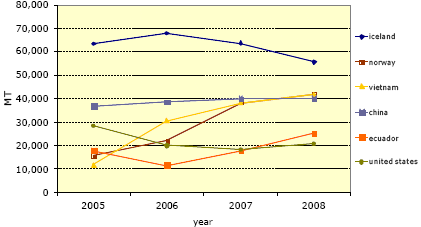 Source: Global Trade Atlas
Fish Imports Per Specie, 2005 - 2008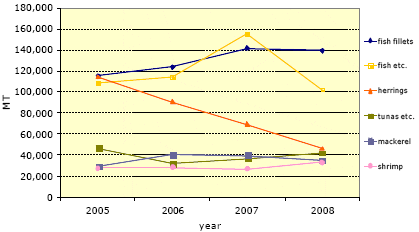 Source: Global Trade Atlas
Still accounting for over 40 per cent of total US seafood exports, shipments of frozen fillets (predominantly Alaska Pollock) dropped further to 8,656 MT in 2008; just over half of 2005 volumes. In the past 3 years, the decline of US exports of Alaska Pollock has been substituted by an increase of frozen Pangasius from Vietnam. Another reason for the lower volumes is the fact that some US Alaska Pollock is coming into the EU through German and Belgian ports. In the Alaska Pollack segment, the US competes with China and Denmark.

Exports of US cod accounted for 4 thousand MT or almost 20 per cent of total US seafood exports to the Netherlands. The US cleary benefitted from the boost in Dutch imports of frozen cod just like Norway and Russia.
US Fish Imports Per Specie, 2005 - 2008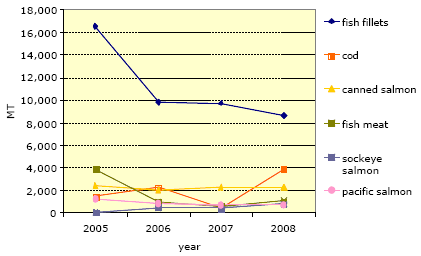 Source: Global Trade Atlas
US salmon exports, the third largest product group, totaled 2,300 MT, similar to previous years. The US is the largest supplier of salmon (prepared or preserved) and accounts for roughly two thirds, followed by Canada.
Retail And Foodservice
Europe offers the most developed market for MSC-labeled seafood, characterized by consumers who are concerned about seafood sustainability and an active, engaged retail sector offering a wide choice of MSC products. The UK and Germany are the two countries where consumers can find the greatest choice of MSC-labeled products but Dutch, Austrian, Swedish and Swiss shoppers are also discovering more sustainable seafood products. According to MSC, more than 30 European retailers already offer MSC-labelled seafood across a wide range of fresh, frozen, canned, smoked, chilled products, and ready-meals.

The Dutch retailers association (CBL) has announced the ambition that by 2011 all wild caught fish and seafood sold by its members would be MSC-certified. This is an unprecedented commitment for an organization that represents the vast majority of the Dutch food retail sector. Individual retail organizations like Albert Heijn, Schuitema and Superunie are actively seeking sustainable MSC certified products. Also HRI players are moving in this direction as Sodexo, Netherlands' leading caterer, is supporting the practice of sustainable fishing by offering fish products with the MSC label. Earlier this year, Sodexo became the first contract caterer in the Netherlands to be certified.

The distribution of seafood products increasingly continues to be dominated by food retailers. More detailed information on the Dutch HRI and food retail sector can be found in respectively GAIN Report NL9002 and GAIN Report NL7028.
Consumption

The combined population of all 27 member countries has been estimated at almost 500 million. According to FAO statistics, the average per capita consumption of fish in the EU is around 22 kg per year which results in a total consumption of almost 11 million MT.

There are huge differences between the various MS. The lowest per capita consumption of fish, up to 15 kg per year, can be found in the Central and Eastern European Member States. The North West European Member States (including the Netherlands) show average consumption figures between 15 and 30 kg of fish per year whereas people in Southern European countries eat more fish. In Portugal and Spain, the per capita consumption of fish is 60 and 40 kg per year, respectively.

Last year the market grew, in volume, by 2 per cent as the Dutch continue to buy every year more seafood products. Research conducted by the Dutch Fish Marketing Board shows that not more people are buying fish but that the ones that already buy fish are buying more.

The most frequest buyers group is the 50+ yrs age group, which in addition has a higher than average disposable income and generally speaking pays more attention to eating healthy. This age group furthermore buys about once a week seafood products. Finally, the research showed that fresh and frozen products are gaining market share at the expense of canned seafood products.
To further increase the consumption of seafood in the Netherlands, the Dutch Fish Marketing Board launched a campaign that focuses on the healthy benefits (Omega-3 fatty acids) of eating fish but also on its taste and variety. Its goal is that in time the Dutch consume two times a week seafood products.
Opportunities
The Netherlands is a country that continues to be a market with lots of opportunities for seafood exports mainly due to the its decreasing catch limits and increasing demand for seafood.

The U.S. has lost one place and is now, after Norway, China and Vietnam, EU's fourth largest supplier of fish. In terms of volume, exports have been stable over the past 5 years around 260 thousand MT. Almost 40 per cent of U.S. fish exports is Alaska pollack. Cod and surimi together represent another 20 per cent of U.S. exports to the EU. Other noteworthy products include salmon, lobster, hake, mackerel, cuttlefish, squid, and scallops.

The Dutch market continues to offer ample opportunities for frozen fish fillets. The US competes with other countries (China and Denmark) on the Alaska pollock market. Within the fillets market Alaska Pollock is competing with other species like pangasius from Vietnam.

Cod also increasingly provides opportunities for the US industry. In this market the US competes with Norway and Russia.

The Dutch market for canned salmon has been more or less stable over the past 5 years. The US continues to be the main supplier although over 2008 Canada saw its market share at the expense of the US. The market for frozen sockeye salmon almost doubled in 2008 and continues to be supplied by solely the US.

Another market where the US has been successful over the years is the scallops markets; total exports and its market share on the importmarket grew.
Further Reading
April 2009