Sponsor message
Are you trying to break into aquaculture industry or already working in the field and looking to gain additional expertise for career development?
A Scottish Sea Farms' employee has been named Aquaculture Learner of the Year at the LANTRA Scotland Awards 2018.
Alan Tangny, who is based on the Isle of Mull and is undertaking a Modern Apprenticeship in aquaculture through Inverness College UHI, was nominated for the exceptional commitment shown both to his on-site and SVQ work.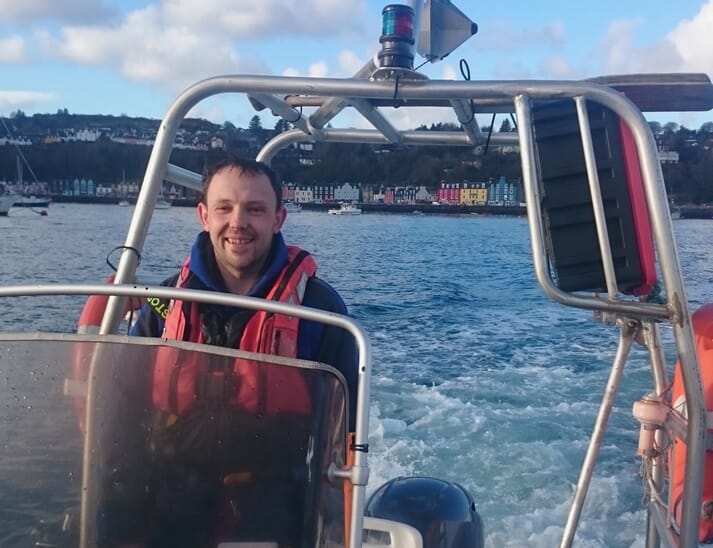 Making his achievement all the more remarkable, the 30-year-old father of four came to salmon farming in his late 20s, with no previous knowledge of the sector.
"I left school at 16, went straight to university then left again after two weeks," says Alan. "It just wasn't for me. So, I took a job as a waiter and worked my way up to chef, but once my children came along I was looking for something with more family-friendly hours."
Alan applied for a vacancy with Scottish Sea Farms as a husbandry trainee and, on being offered the position, was enrolled on the Modern Apprenticeship. Three years on, he has not only successfully completed his Level 2 training, but he has recently been promoted to a senior husbandry position.
Martin Sampson, Inverness College UHI lecturer and SVQ assessor, comments: "Alan is a great example of how a person can achieve their life goals by embracing the opportunities for advancement opened up by learning and running with it. He has approached the SVQ learning process with the same enthusiasm and ability that he applies to his job. His work in the SVQ has been exemplary, and his rapid progression and achievement in his workplace parallels and is testament to this."
Alan attributes his success to the support offered by his employers.
"At a company level, they invest a lot in training and development – there's real potential for career progression," he reflects. "At a farm level, the team have been every bit as supportive, giving their time and sharing their considerable experience. As someone who lives on Mull, as well as works here, it has been great to learn first-hand how much Scottish Sea Farms do both to protect the salmon in their care and the surrounding environment."
Sponsor message
UMass Sustainable Aquaculture Online Courses
Aquaculture is an increasingly important source of safe, nutritious, and sustainable seafood for people worldwide. Globally, aquaculture production must double by 2030 to keep pace with demand. These increases in demand for aquaculture products, food security considerations, and job creation have generated an increased need for skilled workers.
Discover how you can be part of this rapidly expanding industry.
Jim Gallagher, Managing Director at Scottish Sea Farms, says: "This is a huge win for Alan and for the company. Alan represents everything we look for in our team. He's talented, hard-working and cares passionately about fish health and welfare. If his story inspires more people to consider a career in salmon farming, then it can only be good news for the sector."