Meet the farmer: Soibam Surchandra Singh
After deciding to become a fish farmer at the age of 13, Soibam Surchandra Singh is now one of the most successful aquaculture operators in Manipur, northeast India.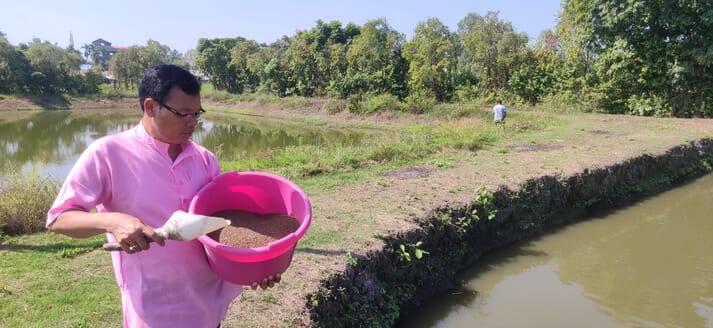 What inspired you to embark into an aquaculture sector?
In 1981 my father, Soibam Tomba, started fish farming in 2 hectares in Hiyangthang Mamang Leikai village, on the outskirts of Imphaland and named his farm S Tomba and Sons. I was in Class VII [aged 13] then. I used to watch him farming. He made good profits in those days. It made me realise that the sector had huge potential.
However, I also felt that farmers in our small and landlocked state were not that skilled, which could lead to high fish mortalities. So, I decided to farm in a scientific way and went to Mumbai to do a two year post-graduate diploma in fisheries science at the Central Institute of Fishery Education (CIFE), from 1994 to 1996. I then returned to my state and started farming with my father.
What's the size of your farm and what species do you produce?
The farm is around 25 hectares, with 30 big and small ponds. We also have a hatchery. I produce nine varieties of fish – mostly Indian major carps (IMCs), silver carp, grass carp and common carp.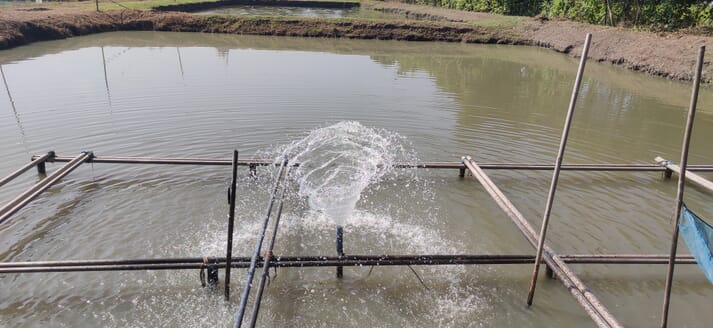 We also farm pengba, a native species that is an important part of our ningol chakouba festival. This is held in October every year, and married daughters are invited by their parents and offered good food including pengba.
What is your annual production and market?
Our total production is around 120 to 130 tonnes, which is sold to local markets and also in the neighbouring states Mizoram and Nagaland. Fish is in huge demand – even people who do not eat meat, eat fish and it is added to most dishes.
What sort of production system do you operate?
We operate in ponds and have aerators to maintain the oxygen level. The stocking density is around 80,000 fingerlings per hectare of pond. We feed them with feed from the market.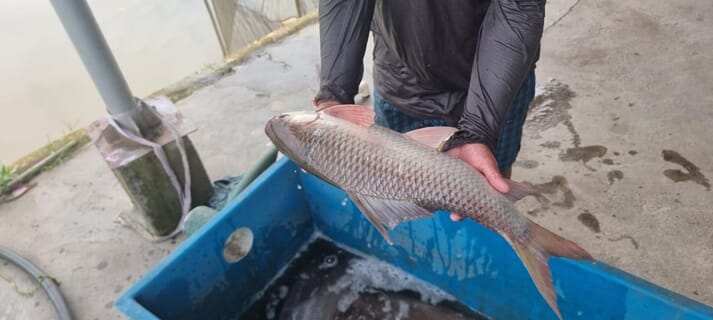 What's your typical day at work?
I wake up at around 5 in the morning. I stay just 200 metres away from the farm and walk there to check the ponds, look for mortalities, instruct the staff and feed the fish. After spending an hour in the farm, I leave to meet farmers in various districts of the state and train them. I also receive numerous calls during the day from the farmers who ask me for suggestions.
Is there any individual who has particularly helped you succeed?
I am thankful to AK Reddy, who is a retired principal scientist at CIFE, Mumbai. He visits my farm regularly and advises me on new farming techniques. I am also thankful to Dr Shukham Munil Kumar, who hails from Manipur but is now working as a scientist at CIFE. He also keeps on sharing valuable inputs regarding fish farming.
What's your greatest achievement to date?
In 2002 and 2013, I won prizes for being the best fish producer in the state. The National Fishery Development Board (NFDB) also awarded me with Best Agripreneur award in 2017.

Besides, I have trained over 5,000 fish farmers. I am happy to see many of them now earning a living from it and the joy cannot be equated with money or any awards.
What are your biggest biological concerns?
Epizootic ulcerative syndrome (EUS) disease is severe here and spreads rapidly. All the fish can die within two to three days. We regularly use the disinfectant Ultraxide to minimise the spread of EUS, but still I face a 10 percent annual mortality rate.
The problem is more extreme with small farmers who are unable to detect the disease and can watch the entire stock being wiped out in front of their eyes. If they call me I suggest remedies and medicines.
How do you deal with the cold winters?
We are a hilly state and the temperature dips to as low as 6 °C in December. At this time we increase the water level of the ponds from 5 feet up to 6 or 7 feet to ensure the survival of the fish.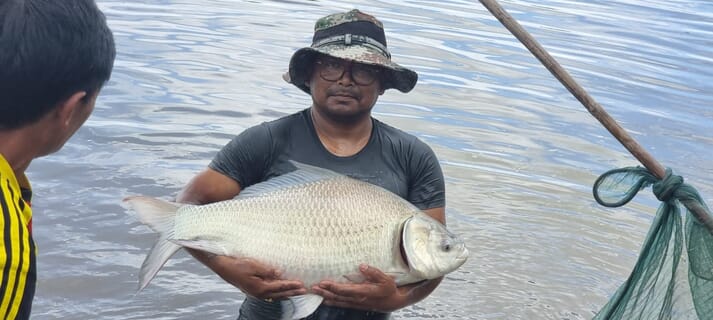 What is your biggest worry at work?
Our state is facing a severe water crisis due to climate change. It's becoming hotter here, despite the altitude. We depend on a local river for water, which is brought to the ponds with the help of a canal and a network of pipes. We try to keep the water clean by using medicines at regular intervals, as changing the water is not always possible, due to the crisis. I just fear the day when we won't be getting enough water.
What's your ultimate ambition in this sector?
I want to see my state becoming self-sufficient in fish production, as we still depend other states for fish and seeds. Besides, I am now growing old. My son is studying in Class X [ie aged 16]. I want him to do an MBA and then join my business. I then want to hand over the reins of my business to him and retire and relax.
What piece of equipment would you most like to have on your farm?
We need good quality of aerators, which are normally not available here and have to be brought from Thailand.