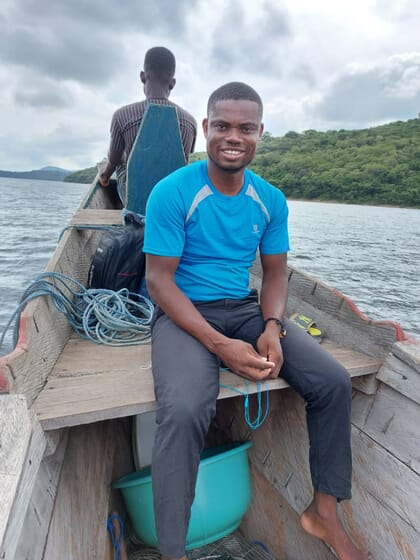 He currently works for the largest locally-owned fish farm in Ghana, Vision 2000, while also undertaking a masters in environmental management and sustainability at the University of Development Studies.
What's your name, age, role and country of operation?
My name is Emmanuel Dery. I'm 35 years old and am the farm manager of Vision 2000 Fish Farm, on Lake Volta Lake. My duties involve managing the nursery and hatchery to ensure quality fingerling production, managing the stocking, production and security systems, and managing the sales process.

How long have you been farming?
My fish farming journey began as a student, when I spent the four annual vacation periods working at Kumah Farms, a commercial farm that currently holds the largest stock of Heterotis niloticus in Ghana.
It's a well-run farm, so I got a good foundation. And I followed this up with my year's compulsory National Service, when I engineered the start of the first fish farm in the northern sector, with the Zoomlion Fish Culture Project. This was developed into a 54-cage project across three districts. After six years with Zoomlion, I had short but useful stints with the 66 Artillery Fish Farm at Ho in the Volta Region and Cluster Farms at Ekumfi Ekrawfo. I have been in my present engagement for two years.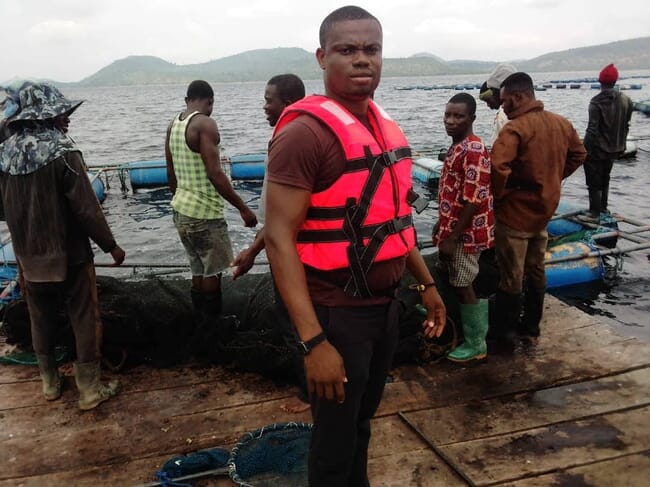 What size is your farm and what species do you produce?

We have 400 6 metre by 6 metre cages – 100 at the hatchery and 300 at production level. We currently produce 10 tonnes of tilapia a month, because we are still recovering from the effects of the ISKN virus outbreak and Covid-19. Normally we would be producing at least 40 tonnes a month.
Why did you decide to embark on a career in aquaculture?
During my senior high school days, my dad was an employee of the Savanna Agricultural Research Institute, which managed many dams which had been constructed in the northern part of Ghana to provide water during the dry season for domestic purposes, livestock and farms. My siblings and I used to go to some of these dams and fish, and we would earn some good money – that was one incentive!
The other was that, by the time I went to university, I had gained a good appreciation of the value of fish in the diet of local community. I come from a poor, rural background, and I realised that I could help solve the problem of undernourishment which was prevalent in my part of the country, by engaging in fish production. And of course, I knew that it could be a good source of regular income. So I decided to abandon my original plan of going to the medical school, and settled for aquaculture.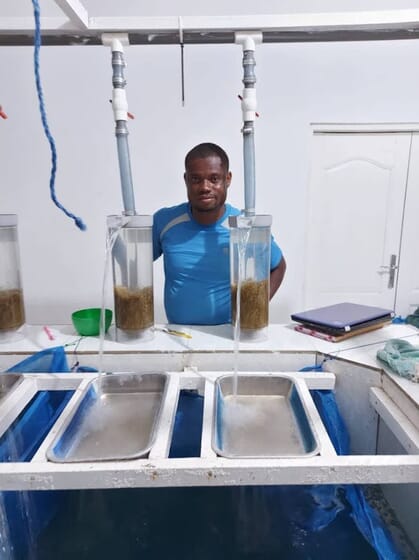 What's your ultimate ambition in the sector?
Commercial fish farming has a great future in Ghana. In the short term, I would like to ensure that Vision 2000 resumes its former production status and moves way beyond it. Over the long term, I would like to play a consulting role. There are many farms with great potential which lack technical skills. I would like to assist them move to become highly successful enterprises.
What's your biggest worry at work?
In this company and around us on the Volta Lake, the ISKN virus did a lot of damage, and we are only just beginning to recover from it, so biosecurity is my major concern and I want to ensure that we do our best to produce a healthy harvest always. I also hope that there will be a more efficient system for preventing and dealing with health risks on the lake.
What's your greatest achievement to date?
For introducing cage farming in Northern Ghana, I received two consecutive awards, Best District Fish Farmer for Nandom District (2013), and Best Cage Fish Farmer in the Upper West Region (2016). And in appreciation of these efforts, Zoomlion Ghana sponsored me to participate in the 2015 International Agricultural Conference and Exhibition in Tel Aviv.
What piece of equipment would you most like to have on your farm?
Due to the large volumes of tonnage of tilapia we harvest, I would like an electronic sorting device to help grade our fish. We would also like to save the time and drudgery involved in gutting the fish.
What's your favourite seafood dish?
Fufu with hot tilapia light soup. I wouldn't mind having it thrice a day!