Addressing the sea lice challenge is one of the most important tasks for the salmon farming industry worldwide.

Wild Atlantic salmon stocks on both sides of the Atlantic have been on the decline since the beginning of modern industrialisation. This is well documented in the WWF report "The Status of Wild Atlantic Salmon: A river by River Assessment" that came out in 2001.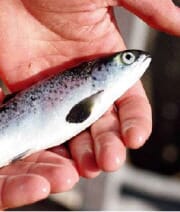 The salmon farming industry has many years of experience with regards to preventing and controlling sea lice but is continuously working to develop novel and more effective tools for lice control.
The report states that various forms of pollution and decline in water quality, building of hydroelectric power stations, destruction of spawning grounds, construction of physical barriers that prevent migration (no fish ladder), and over-exploitation by offshore fisheries are some of the historic reasons for the decline. The report uses the river Rhine in Germany as one example of how what was once the best salmon river in Europe was destroyed by various human activities.

Salmon farming is mentioned in the report as a more recent contributor to the decline in wild salmon stocks and that the countries with the most intensive salmon farming activities in later years have seen the biggest drop in wild salmon returns to their rivers.

However, countries such as the Baltic States and Finland, where there is little or no salmon farming, have also seen a dramatic decline in stocks. In Finland, the WWF report states that 25 of the historic salmon rivers are categorised as extinct. Along the pacific coast of North America, stocks of Pacific Salmon are in decline from California to Alaska, while farming of salmon takes place only in British Columbia.

The British Columbia Pacific Salmon Forum, a government appointed committee, published its final report in January 2009. This report also documents that decline in wild salmon stocks on the east coast of the US and Canada started many decades prior to commercial salmon farming, pointing to a number of reasons why this decline has occured.

The salmon farming industry acknowledges that under certain circumstances sea lice of farm origin can present, in some locations and for some host species populations, a significant threat1, and is working diligently to minimize such risk. The industry has therefore implemented several direct and indirect measures to support the preservation of wild salmon.

For farmed salmon, sea lice rarely reach levels where the condition of the fish is compromised due to continuous monitoring of sea lice levels, preventative approaches and control.
Non-Medicinal Approaches for Lice Control
Sea lice are naturally occurring parasites of salmonids and a normal wild salmon can harbour several sea lice. Infections on salmonids were common and well documented before the establishment of salmonid farming. Various species of wild salmon have been captured on the major oceans, and found to be infected with larval, adult and gravid female sea lice2.

Sea lice have therefore also been present on salmon farms since the introduction of farming. With the increased production of farmed salmon this has led to an increased number of potential hosts for the sea lice.

The salmon farming industry has many years of experience in preventing and controlling sea lice but is continuously working to develop novel and more effective tools for lice control.

One of the most interesting approaches has been the development of biological control by the use of wrasse/cleanerfish. Wrasse has proven to be a successful biological tool and the industry is currently using around one million sustainably sourced individual goldsinny wrasse per annum3. In addition, ballan wrasse are also being developed for use on larger salmon. Marine Harvest Norway will start farming ballan wrasse in 2009.

The use of active feed supplements is another area of innovation by Marine Harvest which has yielded positive results. By incorporating specific natural and approved ingredients to the diet, greater control over lice infection and improved medicinal performance has been demonstrated. Pioneered and now widely used by Marine Harvest Scotland Ltd this novel approach is now under development in Marine Harvest Norway.

Other non-medicinal tools are firmly integrated into husbandry, production management and planning, including synchronised fallowing, attention to clean nets and maximum stocking densities.
Efficient Use of Medicines
The salmon farming industry believes it is important to maximise the application of nonmedicinal tools to control sea lice levels. While such tools have made a major contribution to the control of sea lice populations in recent years, medicinal treatment is still required to maintain control and even the best managed farms require use of medicines from time to time in a co-ordinated and efficient way.

Strategically timed and coordinated delousing within appropriate biological areas, where companies develop their treatment strategies in consultation with others, has proved to be a necessary and successful approach to managing sea lice in all territories. Strategic and coordinated treatments of sites in zones form an important and integrated approach to lice management.

By instigating a series of coordinated, synchronous, strategic treatments during the winter, lice levels are minimised. Results from the synchronised winter delousing campaign in Norway in 2008 showed a substantial decrease in number of sea lice4. See illustration 2.2. In Scotland the establishment of Area Management Agreements has helped greatly in this regard.

In British Columbia Marine Harvest Canada has been actively managing its farms to address the public concerns around the sea lice issue. These actions have contributed to natural environmental controls with the result that sea lice prevalence during the March to June smolt migration season has been greatly reduced in the Broughton area, see illustration 2.3. The recent Pacific Salmon Forum5 report acknowledged that this reduction was confirmed in some of the research papers now in press. Recent research by Fisheries and Oceans Canada (DFO) has shown that the proportion of Pink salmon juveniles at risk from sea lice declined from 4.5 per cent to 0 between 2005 and 2008.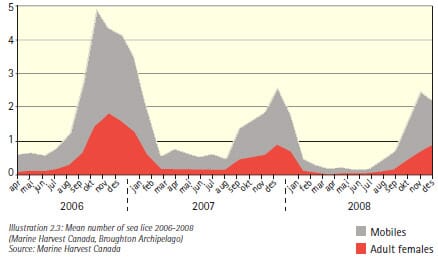 This indicates a positive effort from mitigation effects in British Columbia6. The pattern of sea lice decline in the Broughton has been publicly available on the Federal Fisheries (DFO) website with wild salmon/sea lice data posted since 2004.

In addition to synchronised delousing, minimising the level of sea lice when entering the spring period and systematic monitoring of delousing efficiency are examples of how to use medicines in a more efficient way and to quality assure performance.

Further, levels of sea lice on farmed salmon are regulated by country specific treatment trigger levels, see table below.

Close monitoring of sea lice levels Monitoring and openness are key words when it comes to increased focus on the sea lice situation. Lice levels are continuously monitored on all stocked sites starting after transfer to seawater.

Monitoring is carried out according to respective territory legal requirements and by trained staff who are capable of diagnosing and distinguishing both species and stages of sea lice and reporting lice numbers as legally required. In Norway industry lice levels are published in a common database which is displayed on www.lusedata.no. In Canada, Marine Harvest Canada provides information about its sea lice management on the company's website, an initiative which was started in 2006 (www.marineharvestcanada.com).

Governments have also taken an active approach toward monitoring sea lice levels on wild salmonids. Both Norway, Ireland, Scotland, Chile and Canada have monitoring programmes in place.

Solving the sea lice challenge To further address the sea lice challenge Marine Harvest believes focus should be placed on the following fronts and areas of research;
Possible development of new therapies and a vaccine against sea lice
Intensification of wrasse production and use
Further development and refinement of tools for improved surveillance of resistance development
Improving synchronised delousing strategies
Unorthodox and novel technological approaches to control
Main table titleRegulatory treatment trigger levels worldwide
Country
During period of wild smolt migration
Other times of the year
Canada (W)
3 mobiles per fish
3 mobiles per fish
Chile
Not applicable (no wild salmon
6 mobiles per fish
Ireland
0.3-0.5 gravid females per fish
2 gravid females per fish
Norway
0.5 adult females, or, 3 mobiles per fish
0.5 adult females, or, 3 mobiles per fish
Scotland
0.5 adult females per fish
1 adult female per fish
Footnotes
1 Salmon Aquaculture Dialogue, Working Group Report on Sea Lice (March 2009, page 12)
2 Sea lice and wild fish (June 2002), Dr. Gordon Ritchie
3 Forskning.no, http://www.forskning.no/artikler/2008/juli/188837
4 www.lusedata.no
4 Lusedata, www.lusedata.no.
5 www.pacificsalmonforum.ca
6 Mortality risk to juvenile pink salmon caused by the salmon louse, Lepeophtheirus salmonis by Simon Jones, Pacific Biological Station, May 2009
August 2009