Sponsor message
Are you trying to break into aquaculture industry or already working in the field and looking to gain additional expertise for career development?
Making IMTA Work for Europe
EUROPE - The drive to increase profitability and environmental performance has led many industries across Europe and globally to look for ways to reduce both their material inputs and their environmental impacts, writes Adam Hughes, SAMS, UK, for The Fish Site.
This drive has led to the development of the circular economy concept, where waste products from one production process are cycled back into the production system to be used as a raw materials for another productions process.
In doing this, the industry gains a double benefit of reduced waste and increased productivity. This environmental/economic win/win has been an important component of the food production industry for millennia, where nutrient recycling between livestock and arable crops is still common practice.
It has also been practiced in aquaculture for centuries in such systems as traditional carp polyculture or Vietnamese duck and fish ponds.
However, in European aquaculture there has been almost no industry uptake of this concept of nutrient recycling where the concept has been termed Integrated Multi-Trophic Aquaculture (IMTA).
There is a substantial body of scientific evidence to suggest that this recycling of nutrients is possible in modern European aquaculture, where the waste nutrients from fin-fish aquaculture are used as energy and nutrients for organisms such as shellfish and seaweeds.
Given the potential of the environmental and economic win/win this lack of industry adoption has been puzzling, and so the IDREEM (Increasing Industrial Resource Efficiency in European Mariculture) project was set up to better understand why IMTA is not being more widely adopted and what could be done to encourage the industry to develop the technology.
The IDREEM project is a four year project funded by the European Commission with 15 partners across Europe, seven of which are fin-fish producers who had expressed an interest in developing IMTA systems.
The idea of the project was to work with the fin-fish producers to help develop IMTA systems so as to understand the hurdles that were preventing the development of the industry, as well as to try and develop ways to overcome the hurdles. This meant working with the fish farmer to develop IMTA systems that were suitable for their farms.
As the partners are spread across Europe each farm had very different conditions, not just different environments, such as the North East Atlantic or Mediterranean, but very different regulatory environments and different markets to sell their products into.
When designing and implementing the systems it became very evident that there was a clear difference between the type of systems that would work for those partners in the North East Atlantic and those in the Mediterranean.
For those on the Atlantic coast, IMTA systems based on the production of seaweeds and shellfish worked very well, while for the Mediterranean partners, it became clear that it would not be possible to grow seaweeds as part of an open water IMTA system.
This was because the Mediterranean is so nutrient poor, even with fish farms close to the seaweed, there was not enough nutrients to support their growth.
However, even across this diversity the IDREEM project has shown that commercial scale IMTA is possible in Europe and, as a result of the project, the first IMTA products from Europe have hit the market.
However the project has also revealed that there are a number of steps that need to be taken before there is a greater uptake of IMTA technology across Europe.
Firstly, the fish farmers need to be able to certify their products, especially their fin-fish, when produced through IMTA production.
Consumer research undertaken by the IDREEM project has shown there is a willingness to pay extra for fin-fish that is produced using IMTA, but in order to make this is a reality there is a need to develop a set of standards of IMTA production.
This standard can be used to both increase consumer confidence in the concept of IMTA and to protect the fish farmers investment in the IMTA system.
Secondly, if IMTA is to make a significant reduction to the net nutrient emissions from a fish farm then the shellfish and seaweed component of the IMTA system is going to need to be large, possibly doubling or trebling the foot print of the farm.
With this need for space come logistical constraints around the siting of the shellfish/seaweed components around the fin-fish cages to ensure that these additional products do not unduly impinge on the logistical operations of the fish cages.
In order to do this, it is necessary for the fish farmer to be able to manage the IMTA system at a much larger scale, by using the IMTA concept to balance the nutrient inputs and reductions at the scale of a water body such as a bay or a fjord. In this way IMTA could be used to create a balanced or an ecosystem approach to aquaculture.
The third essential development required for IMTA to be more widely adopted across Europe is to develop the market for the co-products, to ensure that the production of all components of the IMTA system are economically sustainable.
In the case of shellfish, the market for theses products is already well developed across Europe. However in the case of seaweed, these markets are very poorly developed.
This is despite the fact that Europe is a major importer of seaweed and it has a wide range of industrial uses and applications, as well as its growing importance in the food sector.
The wide scale adoption of IMTA across Europe could result in the production of very significant biomasses of seaweed, and it is critical that a market for these products exists.
Through the IDREEM project it has been demonstrated that IMTA can become a commercial reality in Europe, and that the concept can be a valuable tool to ensure the continued economic and environmental sustainability of the aquaculture industry. However there is a clear need for further development before there is wider scale adoption across Europe.
The research leading to these results has been undertaken as part of the IDREEM project (Increasing Industrial Resource Efficiency in European Mariculture, www.idreem.eu) and has received funding from the European Union's Seventh Framework Programme (FP7/2007-2013) under grant agreement n° 308571.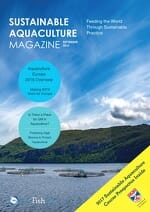 This article was taken from the September 2016 Sustainable Aquaculture Magazine.
Sponsor message
UMass Sustainable Aquaculture Online Courses
Aquaculture is an increasingly important source of safe, nutritious, and sustainable seafood for people worldwide. Globally, aquaculture production must double by 2030 to keep pace with demand. These increases in demand for aquaculture products, food security considerations, and job creation have generated an increased need for skilled workers.
Discover how you can be part of this rapidly expanding industry.