Lumpfish researchers urged to work more closely with the salmon industry
Despite a number of issues relating to welfare and efficacy, lumpfish should still be considered as a long-term tool in the management of sea lice in Atlantic salmon aquaculture, according to global lumpfish experts.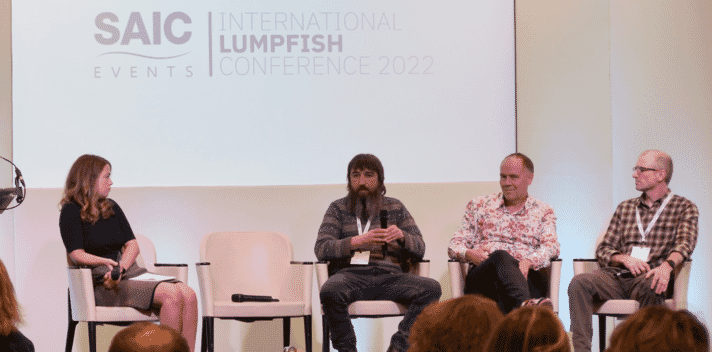 Hosted by the Sustainable Aquaculture Innovation Centre (SAIC) at the tail-end of last year, the International Lumpfish Conference brought together professionals from across the North Atlantic salmon producing regions with the aim of fostering international support for the adoption of best practices. Delegates took to the stage to discuss new findings around the health and welfare, broodstock, nutrition, rearing and deployment of lumpfish – millions of which are used on salmon farms each year.

"Thanks to the combined support of academia and the sector, we have collectively gathered significant knowledge on lumpfish breeding techniques, strategies for deployment and best practice for fish health and welfare. But we can't be complacent – there are still unanswered questions on how best to use and care for our lumpfish and we can gain more by applying this knowledge in real scenarios", said Daniel Carcajona, senior aquaculture innovation officer at SAIC.
Around 70 delegates attended the conference in Inverness – representing hatcheries, feed producers, fish health experts, academia, and other areas crucial to the domestication and farming of lumpfish. Attendees travelled from all over Scotland, Wales, Ireland, Iceland, Norway, the Faroe Islands and Canada.
Highlights of the conference included a session on deployment and efficacy at sea. Mark Johnson, cleaner fish manager at Mowi, addressed the importance of training for site staff in cleaner fish husbandry, to motivate teams and make cleaner fish a greater priority, and stressed the importance of feeding, introduction, shelter and husbandry (FISH). Adam Brooker, research fellow at the University of Stirling, highlighted how the variation in individual personalities of lumpfish can have a significant impact on their ability to treat sea lice – with bolder personalities typically performing better.

A separate discussion explored the production of lumpfish in a flow-through system using ambient temperatures. Chris Hempleman, production director at Otter Ferry Seafish, reflected on the importance of the conditioning phase in helping lumpfish to acclimatise to sea pen life. He concluded that, when done successfully, this can enhance the performance of lumpfish and is, therefore, something to encourage and continue exploring across the sector.
Professor Albert Imsland from the University of Bergen and Akvaplan-niva also spoke of his research into lumpfish welfare, which aims to quantify the grazing of lumpfish on sea lice by distinguishing the different life stages of lice found on Atlantic salmon. He concluded, "the present results indicate that lumpfish have the ability to reduce the number of pre-adult, mature male and mature female sea lice and that they are therefore a suitable cold-water option for the biological delousing of Atlantic salmon."
Other talks covered broodstock management, chaired by Andrew Davie, head of aquaculture at AquaScot, with presentations from Otter Ferry Seafish, Benchmark and Stirling's Institute of Aquaculture; and nutrition, chaired by Antonios Chalaris from BioMar, with speakers from WorldFeeds, Nofima, Stirling's Institute of Aquaculture and Aqua Kompetanse AS.
"Evidence shows that lumpfish have an important role to play in an integrated management strategy for sea lice control," commented Jim Treasurer from FAI Farms, who gave closing remarks. "It would be beneficial to encourage idea sharing from the conference to the farms and hatcheries as quickly as possible to incorporate today's discussions as best practice within the quality assurance schemes."
Carcajona added: "To move forward in lumpfish farming, it is essential for the sector to develop a programme for broodstock, selecting the lines for best health and delousing performance and taking account of variability of animal and egg quality. When considering the factors discussed today, it's clear that we need to adopt a long-term outlook to meet the levels of demand for lumpfish, grow our sector, boost skills and training opportunities, and continue to put our valuable research into practice."