Spiny lobster is an important commercial species in The Bahamas, worth $90 million and employing about 9,000 fishers. Those involved in the fishery dive down to harvest the lobsters (Panulirus argus) from casitas ("little houses"), which look like small tables set on the ocean floor. Lobsters are attracted to the relative protection offered by the casita but are free to move in and out without becoming trapped. Lobsters are also caught with wooden traps. More than 6 million pounds of spiny lobster tails are sold commercially each year – primarily to the US and Europe, although exports are capped at 5 million pounds.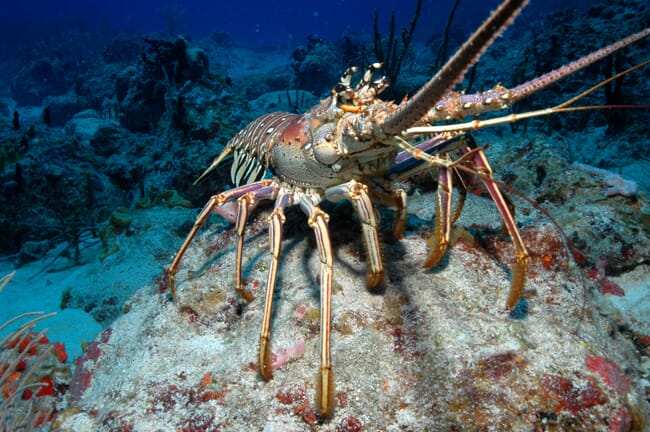 The certification followed a detailed 19-month assessment that included review and input by a team of fishery science and policy experts to evaluate the health of the lobster stock; the impact of the fishing methods on the marine environment; and the management of the fishery. Lobster fishermen and other members of the client group worked closely with government and researchers in The Bahamas to improve the fishery to the level required by the MSC standard.
Brian Perkins, MSC's Regional Director for the Americas said: "Congratulations to the Bahamas Marine Exporters Association (BMEA) on this notable achievement, and for their years of hard work alongside partners to improve the fishery. We're thrilled to welcome this fishery to the program, and to provide consumers with a sustainable option for lobster tails, for this generation and those to come."
"We eagerly accept the MSC stamp of approval," said Mia Isaacs, president of BMEA. "It's been a collaborative effort and we are thankful to all the stakeholders, especially the fishermen. As we continually improve our spiny lobster fishery, we aim for product of The Bahamas to become synonymous with strength, collaboration and sustainability. MSC certification is a proud accomplishment."
Since 2009, World Wildlife Fund (WWF), BMEA, The Bahamas Department of Marine Resources and The Nature Conservancy (TNC), have been driving improvements to the fishery. Through a Fishery Improvement Project (FIP) addressing governance, fishing practices, and environmental impacts, their efforts have been aimed at helping the fishery meet the MSC standard. Several of WWF-US's corporate partners — Costco Wholesale, Hilton Worldwide, Hyatt Corporation, The Kroger Co, SUPERVALU, and Tequesta Bay Foods — provided support for the FIP and engaged its Bahamian suppliers, government officials, and other stakeholders to advance improvements on the water.
"We applaud the thousands of lobster fishermen across The Bahamas for working so hard to sustain this precious resource," said Wendy Goyert, Lead Specialist, Latin America Fisheries in Transition, WWF. "Managing the fishery for the long-term ensures that it will continue to provide jobs, income and nutrition. And it's good news for the sharks, dolphins, turtles and other wildlife that also rely on lobster to thrive."
"FIPs are a really good tool to get fisheries to MSC certification. It lays out a series of steps with definable goals and a timetable," said Bill Mardon, seafood buyer for Costco. "And there is a reward at the end of the line: fisheries that can produce for many years to come."