Oncorhynchus gorbuscha, which originate on the Pacific coasts of the United States, Canada and northern Asia, have been reported on several occasions during the past two weeks and is of concern to Inland Fisheries Ireland (IFI) as it may impact the country's own Atlantic salmon species.
Catches of pink salmon have been reported on the Foxford Fishery, Co. Mayo, the Coolcronan Fishery on the River Moy, the Galway Fishery on the River Corrib, the Cong River on the River Corrib and the Drowes River in Donegal in recent days.
Pink or humpback salmon are a migratory species, native to river systems in the northern Pacific Ocean and adjacent regions of the Bering Sea and Arctic Ocean. Outside of its native range, the species has established self-sustaining populations in rivers in northern Norway and in the far northwest of Russia. These populations are believed to have originated from stocking programmes undertaken in this part of Russia in the second half of the 20th century. In Ireland, there is no licence to farm pink salmon.
IFI is appealing to the public to be vigilant and to report catches of pink salmon with a view to helping to establish the abundance and extent of distribution of the species in Irish waters. The species has a number of unique characteristics which are different to Atlantic salmon and can be distinguished by the following:
· Large black oval spots on the tail
· 11-19 rays on the anal fin
· Very small scales – much smaller than a similarly-sized Atlantic salmon
· No dark spots on the gill cover
· Upper jaw typically extending beyond the eye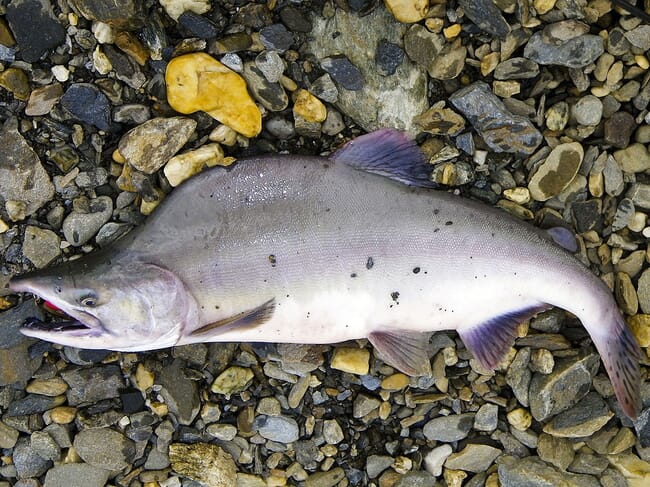 Dr Greg Forde, Head of Operations at IFI, said: "The appearance of pink salmon in the West of Ireland is currently a mystery to us. It seems unlikely that these fish made a migration due to their small size. We are appealing to the public, and the angling community in particular, to be vigilant and to report any catch of pink salmon to Inland Fisheries Ireland so that we can undertake examination of size, maturity stage and genetic origin. The concern is that when angling, anglers are only exploiting about 15% of the salmon stock so there are likely to be several more of these fish in rivers."
Members of the public who catch a pink salmon are being asked to contact IFI without delay and to record date & location of capture, length & weight of fish and to take a photograph of the fish. The fish should be kept for further examination by IFI. Reports can be made to IFI's 24 hour confidential hotline number - 1890 34 74 24. For further information visit www.fisheriesireland.ie .