So concludes a new study, led by researchers at Maastricht University, which suggests that insect protein matches milk protein in terms of digestion, absorption and the ability to stimulate muscle production.
Protifarm, which is part of the Ÿnsect group, provided its buffalo mealworm (Alphitobius diaperinus) for the study, following the recent decision by the European Commission's Health Directorate General, that mealworms are safe for human consumption.
The research shows that mealworm protein matches milk protein, as it contains all nine essential amino acids, and is efficiently digested in the human body. In contrast, plant-based proteins often show an incomplete amino acid profile with low levels of essential amino acids.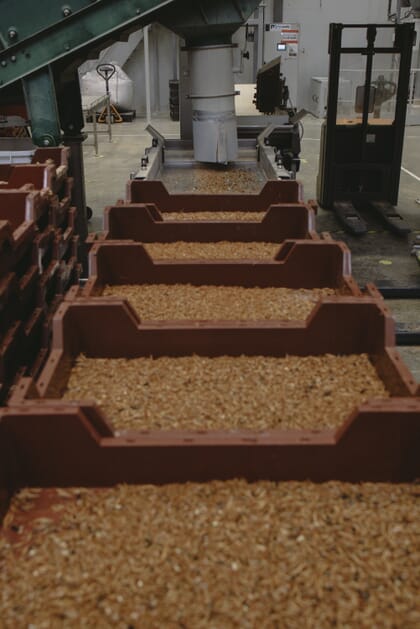 During the project the researchers added stable isotope labelled amino acids to the food of the larvae of mealworm. Upon ingestion of these larvae in human volunteers, they could track those amino acids throughout the human body, from protein digestion to amino acid uptake and explore their use as building blocks to build muscle tissue. A similar process was used for labelled milk protein. In this way, they could determine the digestibility of both protein sources and their capacity to support muscle synthesis.

"We used a unique isotope labelling approach to prove rapid digestion and effective stimulation of muscle protein synthesis following the ingestion of buffalo mealworm. The observed response did not differ from the ingestion of a similar amount of milk protein. It is great to see a protein source that combines both excellent functionality with sustainability," explained Prof Luc van Loon, lead researcher.
According to Ÿnsect, mealworm protein is the only one in the world available on the market that combines performance and health (digestion, absorption, muscle synthesis but also reduction of cholesterol in the liver and plasma) with naturalness and sustainability. Compared to traditional livestock, Ÿnsect group uses 98 percent less land while significantly reducing the carbon and biodiversity footprints of protein production. The process is designed for a circular economy as it generates zero waste.
"In short: buffalo mealworm proteins offer the best of both worlds by providing a high quality protein that is produced in an extremely sustainable environment. Insects will truly be the next sustainable protein source that matches the quality of dairy and the sustainability of many plant-based alternatives. This will open the world up to new food product development," commented Tom Mohrmann, CEO of Protifarm.
"This study demonstrates once again the exceptional qualities of the mealworms and their beneficial effects on both performance and health. After having demonstrated the effects of the protein on cholesterol reduction, we are now able to prove its effects on performance by comparing our insect protein to milk protein (already considered a very premium ingredient)," added Antoine Hubert, CEO and Cofounder of Ÿnsect.
The study was recently published in The American Journal of Clinical Nutrition.