Indonesian seaweed firm lands impact investment deal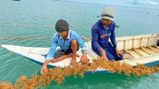 The community-focused seaweed farming organisation MARI Oceans has entered a funding partnership with leading impact investors Deliberate Capital and the Swiss Re Foundation, to enhance current seaweed farming practices in Indonesia.

Seaweed production in Indonesia currently accounts for around forty per cent of national fisheries output and is a source of employment for over 267,000 households. Many individuals engaged in primary production are former artisanal fishermen or local small traders who have pivoted to seaweed farming as a primary source of income.
However, systemic challenges exist throughout the sector, underpinned by a fractured and inequitable value chain with many farmers lingering on or below the poverty line due to highly volatile output prices and limited access to finance.
MARI Oceans tackles these challenges and risks by optimising production to rebalance the fragmented value chain and unlock the potential of seaweed as a vector for social change, climate risk mitigation and food security.

The funding partnership will help accelerate a range of developments, including improving practice and governance - striving to re-invigorate and transition the Indonesian seaweed supply chain into a formalised sector that works for all.
"MARI Oceans firmly believes in the opportunity that seaweed farming presents in significantly creating better livelihoods for farmers across Indonesia. Our partnership with Deliberate Capital and Swiss Re Foundation is a tremendous sign of confidence that industry leaders place in us as we create sustainable seaweed value chains that put farmers at the heart of our operations," said Dodon Yamin, managing director of MARI Oceans, in a press release.
Veronica Yow, manager ESG and impact at Deliberate Capital, notes MARI's commitment to the growth of the seaweed community in Indonesia.
"MARI Oceans' model is comprehensive and inclusive, taking into consideration farmers' needs in ensuring seaweed becomes a sustainable livelihood that benefits people and the environment. We are excited to partner with MARI Oceans as they pilot, scale and refine their farmer engagement and business model," she said.

"Under the area of coastal resilience, the Swiss Re Foundation aims to support nature-based solutions which are focused on the protection, restoration and management of natural and modified ecosystems and have a capacity to deliver impact for people and the environment, generate sustainability from a business model with revenue generation and a solid approach for scaling. All elements are met with MARI Oceans," explained Stefan Huber Fux, director of Swiss Re Foundation.
"MARI's approach to seaweed farming is data-driven, anchored in ownership by smallholder farmers and has the right governance mechanisms to ensure commercial revenues, scaling and fair re-distributions. It will set a blueprint for a whole industry, illustrating the power of entrepreneurial solutions for ocean resilience," he added.
With its first tranche of funding, MARI Oceans seeks to be the leading farming organisation in Indonesia, setting a standard for the sustainability of both ocean farming and community business.