Orego-Stim increases performance within the Tilapia supply chain
It has now grown into a lucrative and sustainable industry, associated with the culture of high value species, mainly saltwater shrimp, marine fish and high value freshwater fish and shrimp.

During this trial, Orego-Stim has proven itself to be an integral component for the advancement of responsible Tilapia aquaculture cultivation and has been shown to provide profitable benefits to all components within the production supply chain.
The trial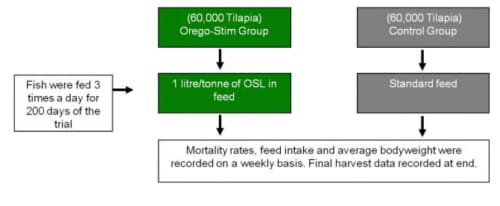 The trial lasted for a period of 6 months between early July 2010 and Mid January 2011. Water temperature was between the ranges of 28-34 degrees Centigrade. Control treatments used standard feed and the experimental group used Orego-Stim liquid at 1 litre / Tonne feed. Fish were fed three times per day and during the second feeding (1pm local time), Orego-Stim was applied in the experimental groups. Duplicate treatments of each group were used (4 cages). Each cage was stocked with 60 thousand tilapia fingerlings which had previously been vaccinated. Parameters recorded included mortality rate, feed intake and average bodyweight on a weekly basis.

The fingerlings used were from a strain of Tilapia which has had much scientific research and development to ensure optimum growth, development and disease resistance. The farm uses quality management product traceability systems to ensure that fingerling stock quality consistently maintains these high standards. Optimisation of production performance can usually be attributed to one of two main factors, or more usually, a combination of both, those being either fingerling quality or fish feed quality. During the course of this trial the fingerlings were of high quality and had been pre- vaccinated against a specific pathogen associated with disease outbreaks in the area. Water quality, temperature, dissolved oxygen and a range of other abiotic factors were suited to Tilapia production. Consequently, differences between the two treatments were deemed to be wholly as a result of the main factor of variance between the control and the experimental groups – Orego-Stim.
Results
During the course of this trial, sample weights from each of the four cages were routinely taken at near weekly intervals. The results from these sample weights are shown in figures 1 & 2 below.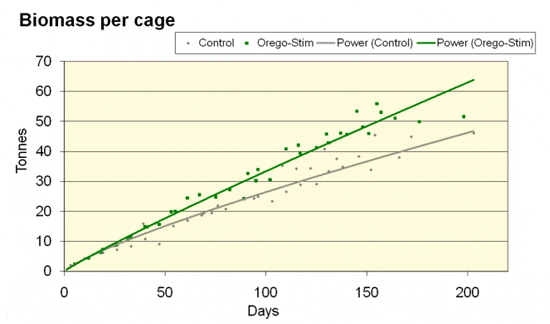 Fig 1. above shows the estimated biomass variation by sample weights over the 200 day trial period. The Orego-Stim group has a greater final harvest biomass by over 1.7 tonnes at the end of the trial period.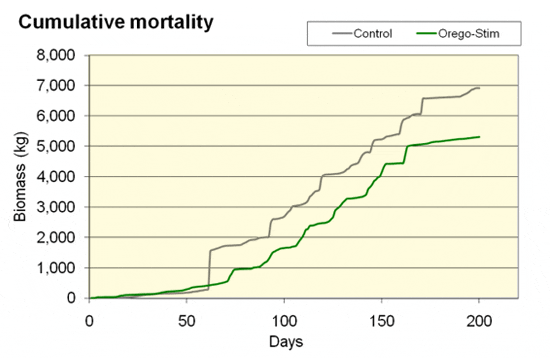 Fig 2 above shows that the Orego-Stim group has a lower cumulative mortality than the control group, totalling 1.6 tonnes of biomass at harvest.
Tables 1 & 2 show the final harvest result data and profit data based on prices and sales at the time of the trial.
Table 1. Growth Parameters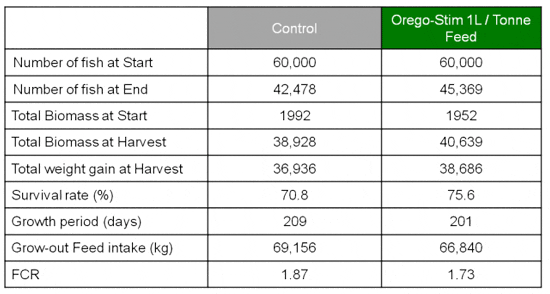 March 2011
Table 2. Economic results
All of the results above show that Orego-Stim increases performance within the Tilapia supply chain, by improving survivability, increasing yields, lowering FCR and reducing culture time.
Discussion
The feed pellets used during the course of this trial were commercial floating pellets formulated specifically for Tilapia diets. The internal perimeter of cages had an inner membrane lining rising above the water's surface and partially submerged below, a feature which was designed and proven effective in preventing floating pellets being blown by the wind or current outside of the cages and consequently lost. In the absence of such a membrane lining and with ineffective feeding techniques, an increase in FCR can potentially occur. Floating fish feed pellets are highly digestible due to higher extrusion temperatures & pressures, thorough cooking of carbohydrates and increased starch gelatinisation. As a result, floating pellets are highly water stable with a tendency to maintain their nutritional composition on the water's surface avoiding nutrient leaching and structural degradation. Floating feeds are also beneficial because farmer's can monitor feed intake which reduces wastage, and furthermore, monitor general fish health status and behaviour during feeding. The combination of these factors during this trial led to a very efficient FCR for Tilapia aquaculture, which was noticeably improved when feeding Orego-Stim.

The 7.5 per cent average reduction in FCR and 6.8 per cent increase in survivability in this trial demonstrate significant cost savings for the farmer which would automatically translate into benefits for both the feed miller and the processor/exporter; more, healthier fish consume feed more efficiently therefore feed volumes would increase, and the processing plants would have more product, with a slightly shorter growth cycle reducing disease risk without sacrificing volume. This can lead to product diversification in terms of variety of product forms i.e. value added, to suit more health conscious consumers as observed in the shrimp and catfish sectors.
Conclusions
Tilapia is a highly important commercial aquaculture species. This trial has shown how Orego-Stim works in a commercial aquaculture environment to significantly improve a range of growth parameters including average fish weight, biomass, survivability, growth period, FCR and return on investment.